Comcast will begin offering Verizon Wireless service in select markets in 2012
2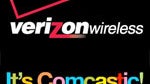 As you may have read a few days ago,
Verizon Wireless purchased 122 Advanced Wireless Services (AWS) spectrum licenses from SpectrumCo
, a joint venture of cable companies including Comcast, Time Warner Cable, and Bright House Networks. We mentioned in that post that, in the future, we might see cable providers selling Verizon services. That future will be arriving in early 2012.
Neil Smit, president of Comcast, confirmed during an investor conference that Comcast would, in fact, begin to offer bundled Verizon Wireless products in early 2012. Smit also noted that Comcast would continue to directly compete with Verizon Wireless' parent company Verizon Communications in markets where FIOS is available.
Time Warner Cable's Chief Financial Officer, Irene Esteves, said that Time Warner Cable anticipates offering Verizon bundles very soon, but did not have any additional information as to which services or a specific time frame.
source:
Reuters
via
BGR