Canadian without passport granted entry into the US with his iPad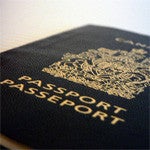 A Canadian man was traveling from his home in in Quebec to the US and about half an hour before he reached the boarder in Vermont, realized that he had left his passport at home. Rather than turn around and retrieve proper documentation, Martin Reisch decided he would roll the dice and see if US official would accept the digital scan he had on his iPad.
Normally, a copy of identification is not sufficient to gain entry into the United States, but for whatever reason, Reisch was briefly detained, then allowed to continue his trek into the US with his scanned passport on his iPad. US Customs official have not issues a statement on the matter, so we don't advise attempting to hop any US boarders armed with only your iPad just yet.
source:
Electronista