Best Black Friday deals on smartphones, tablets and other electronics
49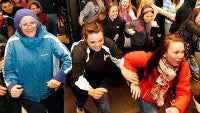 Thanksgiving, the day when we traditionally gather together to give thanks for the past harvest and savour over a turkey dinner, is right around the corner, but some of you may be eager not just to taste the furry bird, but also for Black Friday deals. The shopping craziness of Black Friday kicks off on November 29th and some stores will open as early as the preceding evening in what will without a doubt be the busiest shopping day of the year.
Doorbuster deals, radical price cuts, endless queues, you have all probably seen in and participated before, so what's in it for those who will wake up in the wee hours of Black Friday? Most of the upcoming deals have already surfaced, and it's time to take a look at what are they and where should you line up if you want the latest and greatest in electronics.
Keep in mind that some of the stores like Best Buy will actually start the deals a day earlier, so you might want to get ready and break that piggy bank in advance. For all else, may the force be with you and please be gentle with the people around you on that shopping spree!
Recommended Stories