Accelerated LTE data adoption means data growth of over 200% in 2013
7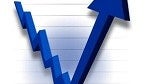 In 2012, total mobile data traffic came to a total of
13,412 petabytes
. A petabyte is 1 million gigabytes, or 1,000 terabytes. Since so much of what we do in the mobile space involves gigabytes, the mobile data traffic in 2012 amounted to
14,063,501,312 GB
.
That was an increase of about 69% over 2011. For 2013 however, the pedal is to the metal and ABI Research figures the data usage is going to explode.
Global data traffic will see a
growth rate of 207% in 2013
thanks to 4G LTE network rollouts. The faster speeds that LTE provide fosters more app downloading, content streaming and overall data usage, so the amount of data will increase exponentially. This is sure to create an upward trend for a while since some major markets have only begun to rollout LTE service, like India and China.
sources :
ABI Research
via
BGR