Not all Android apps will be equals on the BlackBerry PlayBook
4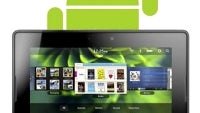 Some more details leaked about
the BlackBerry PlayBook Android app player
from RIM engineers that presented at the Droidcon summit yesterday, and the news are not very pretty.
First off, things written with the Native Development Kit (NDK) won't work, which is a lot of games, for example. Apps that use
the Google Maps API won't be able to run on the PlayBook either
. And forget about pieces that need Android's text-to-speech engine, or trying to pay from within an app - this type of billing won't be supported.
Rounding up the things that will be missing from the Android layer on the BlackBerry PlayBook and future QNX devices are bits that use the built-in SIP VoIP engine, but the saddest thing for us is to part with the famed Live Wallpapers.