ISIS pilot program finally launching on T-Mobile Oct. 22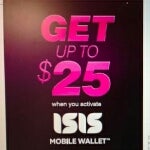 It has been delayed a number of times, but it looks like the ISIS mobile payment system is finally getting off the ground, at least as a pilot program. A few users will be able to get in on it starting October 22nd. And, we really do mean "a few".
No word on when the system will make its way to its other founding carriers AT&T and Verizon.