It's decent looking with its results.
Armed with an 8-megapixel main camera, it's nothing too extravagant, but it serves its purpose. From the looks of it, the camera app is one of the few non-stock Android things with the experience. Impressively, the interface is loaded with manual controls and several shooting modes to please the most demanding shutterbug. From usual staples like HDR and panoramic modes, we're also given secondary modes such as interval and blink detection.
Generally speaking, its quality is decent enough to accept. It's far from perfect, that's for sure, since there are certain elements that prove distracting. First, it's pretty slow to focus, and when it does, the camera is sometimes too slow in capturing the snapshot – resulting in many images coming out blurry. On top of that, dynamic range isn't handled evenly, which results in certain areas being overexposed. Under low lighting, there's a fair amount of noise and softer details.
ZTE ZMAX sample images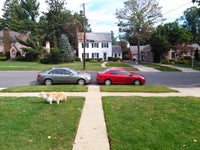 Our reservations are the same with its 1080p video recording quality, where it's pretty slow to focus and seems rather finicky with its exposure.
Multimedia
Great for watching videos, we're impressed to find that ZTE sprinkles a multi-tasking element with it.
Largely because of its gigantic screen, the ZTE ZMAX is an ideal thing if you plan on watching a lot of videos. Not only do they play smoothly and look good on the phone, but ZTE offers a multi-tasking element where the video is overlaid on top of whatever we're doing. It's nice gesture, of course, but there's a slight hitch to the phone's overall performance.