ZTE Nubia Z9 Review
Camera
Probably the Z9's saving grace
The Nubia Z9 sports a 16 MP Sony Exmor IMX234 sensor with an F2.0 aperture and optical image stabilization for a main camera, and a 8 MP sensor for a selfie snapper. It has its left-most home screen permanently dedicated to all of the camera's different modes, which include time-lapse, light painting, various filters, panorama, slow shutter, et cetera. Disappointingly, there is no slow
motion
mode to be found.
The camera app is pretty well put together – we especially appreciate that the Pro mode toggle and controls are both easily accessible. Not all is perfect, however, as some software functions are just disappointing. For example, the camera's HDR tames the bright areas and lights up the dark spots, but the effect looks unnatural and forced. Additionally, it amps up the colors by quite a bit and blurs out details – the effect can be seen in samples 2, 6, and 13 in the slideshow below. Many of the different camera modes are simply variations of "Slow shutter" – even the bombastically named "Electronic Aperture" mode seems to only affect the speed of the shutter – samples 8 and 9 show two Electronic Aperture takes, one with the F setting on minimum and the second one with it cranked up to max. See a difference? Neither do we.
All of that aside, in auto mode and pro mode, the camera takes stellar photos and we can say that it's the single saving grace of the otherwise unreliable handset. Colors are accurate and vivid, details are sharp, and the camera is really good at dealing with aggressive lighting sources within a shot – check out pictures 3, 4, and 5, where the sun is clearly blasting into the sensor, yet we get a pretty nice shot none the less. These are all made with the software's Auto shot setup – rest assured that it does a great job, and you will only feel the need to reach for the "Pro mode" if you are looking for a specific effect.
ZTE Nubia Z9 sample images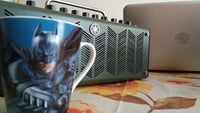 As for video recording – the Nubia Z9 can shoot clips in up to 4K resolution, which could become a space issue, considering the phone lacks a microSD card slot. As far as quality goes – the videos are quite pleasing, showing the same amount of details that we can see in the phone's photos. The Z9 has continuous auto-focus, which is a bit slow to react, but at least does so reliably, without wobbling too much. The exposure, however, does like to fluctuate quite a bit as you move around light sources, and we found it a tad annoying. The clips' sound is pretty full and pleasing, albeit a bit muddied up by a pronounced lower mid-range.
An enjoyable player
The Nubia Z9's crisp display and borderless appearance makes for a good time when watching clips on the go. Its colors may not be entirely too accurate, but they do strike a good balance of being vivid, without actually being too punchy or eye-gouging. In fact, the only issue we had with using the phone as a movie player had to do with its design – the glass back made it hard to prop-up on most surfaces, while the weight made it awkward to use when lying down.
Those of you that are concerned about a phone's loudspeaker audio are in for a treat as well. On its own, the Z9's speaker is pretty flat-sounding and weak. However, the included Dolby Digital Plus app quickly remedies that. You can choose one of 4 audio presets or make your own, and we really suggest the latter. It won't be long before you strike a sound that pleases you. Details do get lost as you boost the bass, but at least the speaker starts sounding respectable – we've definitely heard much worse sounds on other, more famous flagships. On the Z9, watching our favorite TV series without attaching external hardware is easily possible.