Camera
In reality, the results aren't horrible by any means, especially if you're looking to do some casual photography, though there are some key takeaways to consider. First and foremost, the amount of light (or lack thereof) is detrimental to the performance of the snapper. Said otherwise, as soon as the lights go down (or out), the already overexposed snaps get an awful cyan tint to them, making them a pain to look at. The amount of detail is on the low-side, and photos often have more than average noise to them.
The front shooter is a lowly 0.3-megapixel unit that offers passable quality for the occasional video call.
Sample Images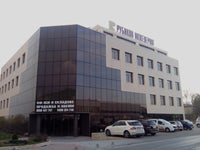 Multimedia
There isn't a whole lot to be said about the multimedia capabilities of the ZTE Grand X Pro – they cover the essentials, but you'll struggle playing something fancier in an .mkv or .mov encoding for example. Speaking of playback, the speaker (found on the lower back) is pretty loud, but quality goes down the toilet as soon as you crank it up.
The built-in players are your normal stock Android representatives, they simply have a skinned icon, which some people may confuse for something custom-made. They perform fine, as they always have, though you do have an incredible amount of alternatives to pick from on the Play Store, in case they're not your cup of tea.