ZTE Axon 7 Mini Review
17
Camera
Feature-rich software and adequate camera hardware somehow add up to less than the sum of their parts
On the surface, the Axon 7 Mini's camera setup sounds pretty solid: we've got a 16MP Samsung ISOCELL sensor protected by sapphire crystal for the phone's main camera, as well as an 8MP front-facer. And while that's good, we miss out on extras that made the 20MP camera on the Axon 7 more appealing, like hardware optical stabilization support.
The camera software is relatively full-featured, including easy icon-based access to common shooting options like HDR and flash settings, as well as a powerful manual mode. And for users wanting something a little extra, still, we find options for shooting modes taking advantage of techniques like multiple exposures and time-lapse imaging. It all looks pretty promising; so how are the results?
Image quality
The Axon 7 Mini's camera is one of those that works really well when you give it ample light and uncomplicated staging, but cracks in the veneer reveal themselves as you venture too far outside that everything's-set-up-perfectly domain.
Among the issues we found the camera struggling with were complicated focus situations (with both close-up and distant elements), as well as scenes without straightforward exposures, like shooting against an overcast sky. With the latter, we expected to see the auto-HDR mode compensate for a washed-out background, but the results proved far less satisfying than what we'd get with the HDR on a phone like the Google
Pixel
.
Don't push things too far, though, and you should be happy. Or if you need to get a tricky shot, try your hand with the camera's manual mode, rather than over-relying on auto point-and-shoot action.
ZTE Axon 7 Mini sample images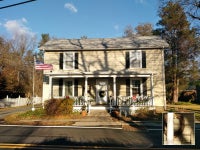 Video recording
Video resolution tops out at 1080p (no 4K here), but whether you're shooting in 1080p, 720p, or a lesser resolution, footage never looks particularly sharp. Re-focus times are a little slow, and with a pronounced "seeking" action, but even when the camera settles in on a focal lock, the imagery isn't as crisp as we'd like it to be.
Combined with a lack of any sort of stabilization feature, and mics that really caught a lot of wind noise in our tests, and we just weren't too impressed with the Axon 7 Mini's video performance. If you just need to capture a moment for posterity, it's adequate enough, but you can also do a lot better in terms of smartphone video capture.
Multimedia
Never underestimate how good front-facing speakers can sound
While some of the Axon 7 Mini's performance might not sound too impressive so far, the phone really shines when it comes to multimedia. Beyond the bold colors of its AMOLED screen making video look great, the pair of front-facing stereo speakers really enhance the audio you're enjoying. They sound great on their own, but the software Dolby Atmos tweaks add an extra layer on top of that, augmenting sound quality and expanding the stereo effect – though you're free to flip that off if you'd rather stick to a more natural sound.
ZTE's included pair of
earbuds
sound surprisingly good, and like the speakers and their Atmos mode, the earbuds support their own "Headset HiFi" processing. Engaging that mode produces some noticeably richer-sounding audio, though ZTE does warn that using the feature will take a toll on the phone's battery life.