Xiaomi Redmi Note 3 Review
50
Interface and functionality
This is Android
5.1
Lollipop running on the Xiaomi Redmi Note 3, with Google's services pre-installed, but it has been heavily modified – both visually and functionally. The result is called MIUI 7, which is one of the more feature-packed interpretations of Google's OS I've come across. Clearly, the software caters to the needs of power users – those who like to tinker with their phone, to have control over how it looks and how it behaves. Regular folks and long-time Android users, on the other hand, might have a hard time getting used to the software's quirks. To me, dealing with the software was even frustrating at times.
But again, Xiaomi's interface can be very frustrating to deal with. For instance, I love to see support for UI themes on any smartphone, but on the Xiaomi Redmi Note 3, I just couldn't make a Mi Account to download new ones. Registering requires an SMS to be sent to Xiaomi's servers, and I tried several times, but never got an ID and password back. I suppose the fact that I'm not based in a market where the phone is intended to be used might have to do something with this. The said account is also used to activate the Mi Cloud feature, which I didn't get to try either.
But that's not all. Apparently, MIUI 7 won't let you have notifications on your lock screen unless you manually enable them for each individual app. Good luck finding how to do that – the option is placed in the App Info screen. And I have no idea why my data counter is placed in the Security tab. Or why many stock apps don't work in landscape orientation. Or why Spotify stops playing music soon after I turn my screen off. Or why I couldn't tweet photos from my gallery. Or why the only way of switching to DND mode is by digging in Settings. Or why the Clock app's timer doesn't work with Google Now voice commands.
I know I might have made this sound a bit too harsh, but that's the reality of heavily altered versions of Android. The more there's stuffed in it, there more there is that can go wrong, the more there is that designers can mess up.
System performance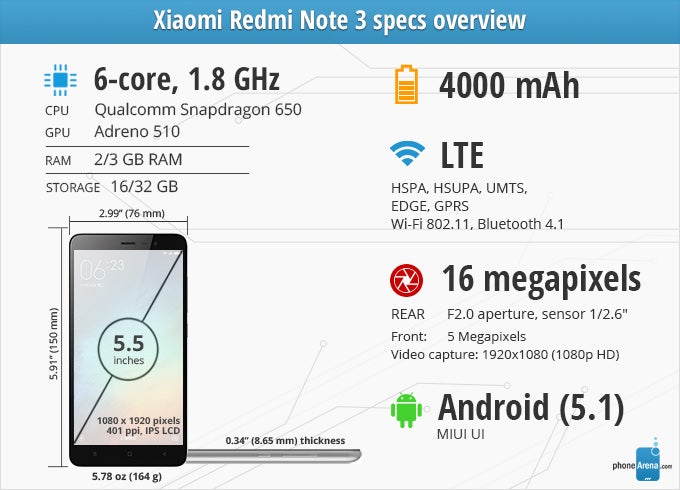 Internet and connectivity
MIUI 7 comes with its own web browser, which I'd advise you to put somewhere in a folder together with other pre-loaded apps you're never going to use. It's not because the app is slow. Quite the contrary: rendering and navigation are both pretty snappy. It's not because it's too basic: the app comes with a Reader Mode, a built-in data saver, and a whole bunch of other features. The thing, however, is that the app has been glitchy throughout my testing. Not a lot, but enough to tick me off. I've had Images being stretched out of proportions, I've had mobile versions of sites not working, and I can't figure out why tabs I've opened disappear on their own. Besides, the app does not hide the address bar and navigation panel, which eats up a considerable amount of viewing area. The good thing is that Google Chrome came pre-loaded on my unit, and that's what I ended up using whenever the stock browser was acting up.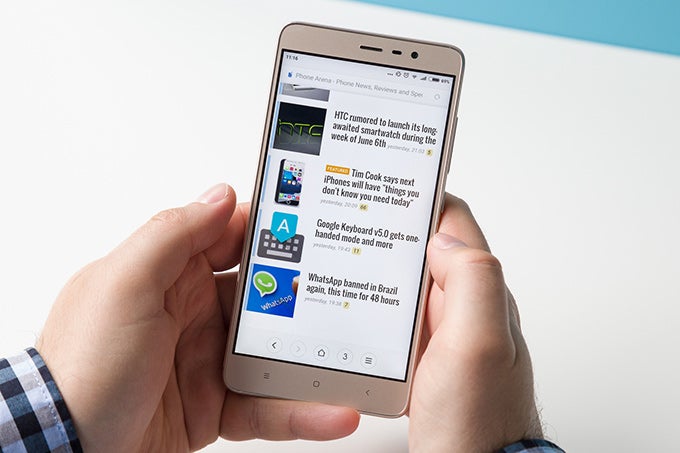 Speaking of using the internet, I've experienced no issues with cellular data connectivity or with Wi-Fi signal strength. Also, I've had no problems connecting the Xiaomi Redmi Note 3 to my Bluetooth speaker and maintaining the connection at a reasonable distance. I'm pointing this out because if you go on the internet, you might come across reports of connectivity issues by other Redmi Note 3 users. I, however, have never had to deal with any such problems.
While we're at it, I'm going to highlight the fact that the Xiaomi Redmi Note 3 is a dual-SIM smartphone, with one Micro and one Nano SIM card tray, both working with high-speed cellular data. The latter slot doubles as the microSD card tray, however, so you can't have both expanded storage and dual-SIM functionality at the same time.