Sony Xperia Z3 Tablet Compact Review
31
Camera
It won't necessarily amaze you, but the tablet's camera certainly does the job
The Xperia Z3 Tablet Compact comes with a 8.1MP rear snapper and a 2.2MP front-facing one. Unfortunately, Sony has obviously once again decided that an LED flash to complement the camera's capabilities will be an overkill, leaving the Z3 Tablet Compact devoid of this feature (which is a pity). A dedicated shutter key is also absent.
As far as image quality is concerned, the Xperia Z3 Tablet Compact disappoints and delivers inconsistent results. Even under good lighting conditions, in broad daylight, the camera generally failed to deliver acceptable results. The colors are often washed out or with huge white balance error, making photos unpleasant and completely different from reality. To demonstrate this, we shot the same scene twice over the course of a few hours (at noon and at 4 o'clock p.m.). Both images have different issues, but our verdict is clear – the main camera of the Xperia Z3 Tablet Compact fails at its most important task. The image details are also bad, and our images often turned out with a noticeable ghost effect. Indoors, we got the same hit-or-miss results – some photos were perfectly acceptable, but many were washed out.
The 2.2MP front-facing camera, however, produces good-looking images.
Sony Xperia Z3 Tablet Compact sample images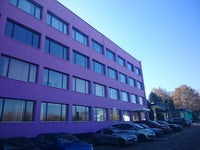 On the other hand, we can say only good things for the video recording capabilities of the main snapper. The 1080p video recording is smooth and we failed to notice any artifacts in the video clips that we recorded. The on-board continuous autofocus is relatively fast and does its job hassle-free, making video recording a child's play. The quality of the recorded audio is high; it's both strong and clean. You'll hardly have any issues with it.
Multimedia
Undoubtedly, one of the stronger aspects of the slate
Being an entertainment-centric slate, the Xperia Z3 Tablet Compact has a vast selection of multimedia apps and features to choose from. For example, it employs one of the best and most feature-rich stock music players available, the Sony Walkman app. It comes with an impressive array of audio-centric settings and features.
The Z3 Tablet Compact makes use of Sony's 3D Surround Sound Technology, Clear Audio+, and xLoud Experience and we can attest that you won't be disappointed by the overall sound quality. Generally speaking, listening to music or watching a Hollywood blockbuster will be a rather pleasant experience. Digital Noise Canceling is here as well and Sony claims that it will eliminate environmental sounds by 98%. Unfortunately, you can only make use of this feature with a special headset (Sony MDR-NC31EM, in particular) that is not included in the box.
As one would expect, the default video player of the tablet is a pretty powerful one and will play a wide array of the more common video formats that you might stumble upon, such as MP4, AVI, MKV, Xvid, WebM, and others. Native subtitle support is also present. You can also watch 4K videos with it – the playback is smooth and as good as it gets, regardless of the "merely" 1080p display of the slate.
One of the highlights of the slate is the on-board PS4 Remote Play feature, which allows you to mirror the content you play or watch on your PlayStation 4 directly to your tablet, provided that both are connected to the same Wi-Fi network. By pairing it with a compatible PS4 controller and you can even jump right into the action. It's the only tablet that allows you to remotely play PlayStation games, and we think that doing this on a slate is a tad more appropriate than on the smaller display of the Xperia Z3 and Z3 Compact, which also support this nifty feature.