Sony Xperia X vs Sony Xperia Z5
Call quality
Call quality with the
Xperia X
and Xperia Z5 is highly similar, regardless of whether you're looking at earpiece or microphone performance.
With both, the earpiece is superior to their respective microphone, delivering relatively clear and tonally correct voices that we immediately recognize. In the big scheme of things, we'd rank them better than average.
On the other end, however, things aren't as good. The microphone lacks power, so the other side will have trouble making out everything you say in a busy environment. For what it's worth, however, the Xperia X's unit is slightly more powerful.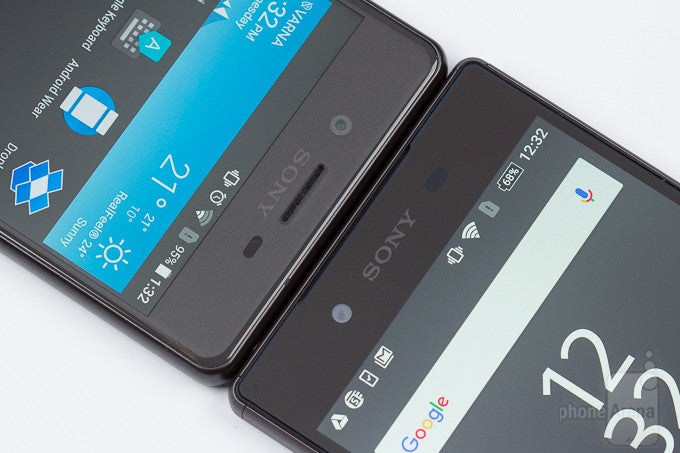 Battery life
In terms of total capacity, the 2,900mAh cell of the Xperia Z5 has the lead over the 2,620mAh unit of the Xperia X. But as you should know by now, numbers are just numbers.
Indeed, we found the numbers to be unrepresentative of our experience, with the Xperia Z5 offering worse battery performance with perhaps a 10% drop in longevity compared to the X. Not a massive advantage for the newer device, sure, but still something to keep in mind. Obviously, this ratio can vary wildly depending on what your typical usage looks like.
When it comes to charging times, the Xperia X, with its smaller juicer getting filled up some 15 minutes quicker than the larger unit of the Z5.
Conclusion
Available for order at $549.99, the Xperia X is a smartphone that doesn't disappoint, but feels a bit too expensive for what it offers. And thanks to its seniority, the Xperia Z5 is dangerously close in terms of pricing—nowadays you can score one for as little as $600.
Our opinion? If you can get the Xperia Z5 for as much as $100 extra over the X, it's worth it. If you can't, go for the Xperia X
Pros
More ergonomic design
Superior outdoor visibility
Better battery life
Better selfie camera
Pros
Less color-incorrect display
Better-suited for heavy gaming
Superior camera with 4K UHD video capture
Stronger loudspeaker volume