Sony Xperia J Review
Camera:
As much as it hurts us to say it, the photos taken with the Sony Xperia J and its
5-megapixel camera
look pathetic. In fact, our sample shots turned out so horrible that we assumed we had messed up the settings somehow. Alas, it wasn't our fault, as further testing proved. For some reason, pictures are totally out of focus, unless you are shooting from up close. At least one more independent review on the internet mentions an identical flaw, so this isn't an isolated issue. Something tells us that a software glitch might be causing all the problems, but that is only a guess of ours. We have contacted Sony Mobile for comment on the matter.
Sony Xperia J Sample images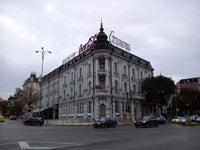 The Sony Xperia J can
record videos
too, but their quality isn't good either. The maximum supported resoluiton is 640 by 480 pixels, which is underwhelming considering that even some of Sony's 2011 mid-rangers could capture 720p. At least the continuous auto-focus works fine, we'll give it that.
Sony Xperia J Sample Video:
Multimedia:
Just like all of Sony's recent Android smartphones, the Xperia J comes with the very capable and feature-rich
WALKMAN-branded music player
. Lock-screen controls and a home screen widget come standard, in addition to the 5-band equalizer, the XLOUD feature that boosts the built-in loudspeaker's volume, and the "Clear Bass" function that lets you tweak the lower audio frequency spectrum. Another handy feature is the player's ability to pull album information from the internet, in case your audio collection isn't organized well.
The stock
video player
can handle any popular video formats, with the exception of QuickTime videos. On several occasions, however, we noticed a few dropped frames when playing some of our video samples, and one time the audio was lagging behind the video. Therefore, you probably won't be spending much time watching movies on the Sony Xperia J. 720p videos are not supported.