Sony Ericsson Xperia pro Review
22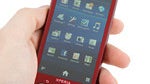 Camera:
The
camera interface
offers a rich set of scene modes, which are very easy to get to in the menus.
We have the new UI here, that includes features like 2D and 3D Panorama, but the latter is of use only to project the results on a Sony 3D HDTV. There is a separate 3D section in the Gallery for those stitched 3D panoramas.
The
pictures
themselves are nothing to write home about. They are taken on a very cloudy day, and although the presentation is rather natural, the colors turned out warmer, giving the sky a rusty hue. Detail is average for an 8MP phone camera. Indoors the colors are also not accurate, this time having a purple hue in the strong light sample. The snaps tend to introduce a lot of noise when the lights are toned down, and the LED flash is too anemic, not able to light up the scene even at 6 feet.
Xperia pro
shoots 720p HD video
with 30fps, and sports continuous autofocus and face detection while filming. The detail is average for the resolution, and mediocre when compared to the best phones, which offer 1080p. Continuous autofocus is nice feature, but it is too finicky and slow to adjust. There is no on-screen shutter button while filming, so you have to always start and stop filming with the tiny camera key of the Xperia pro.
Sony Ericsson Xperia pro Sample Video:
Sony Ericsson Xperia pro Indoor Sample Video:
Mulimedia:
The
music player
is pretty and minimalistic, yet offers things like equalizer presets and Facebook sharing of the song. The Xperia line of Sony Ericsson has some of the more potent loudspeakers on a mobile phone, and the Xperia pro is no exception. Strong, clear output, and full sound make the phone a good mono boombox if you feel like it.
The handset is capable of
running 720p HD videos
, which look very good and the Mobile BRAVIA Engine bumps the contrast and saturation. The Xperia pro doesn't support DivX/Xvid from the onset, you have to hit Android market for that.