Sony Ericsson Xperia PLAY Review
17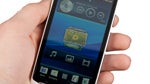 Interface and Functionality:
We have the new version of Sony Ericsson's UX Android interface that shrinks down Mediascape to one elaborate widget, and leaves only Timescape – the card-based notification system for your social network accounts and messages - on one of the homescreens. We examined this updated interface in our
Xperia arc preview
, if you want to have a look at it in details. Coupled with the transparent backgrounds and cool animations, this new interface is shiny, good-looking, and,
according to the company
, is simple enough to ensure timely updates to the next versions of Android after
2.3 Gingerbread
, what we have on the Sony Ericsson Xperia Play.
It is not an accident that the phone ships with Gingerbread, which sports numerous gaming-oriented enhancements, like native motion sensor support, thanks to which "
a game application could use readings from a gyroscope and accelerometer on the device to recognize complex user gestures and motions, such as tilt, spin, thrust, and slice
." Slice is nice!
Android 2.3 also improves the support for 3rd party video drivers, used in 3D graphics acceleration, and includes system level coding to minimize application pauses. This ensures smoother animations, and increased responsiveness in games. The Gingerbread platform now recognizes touch and keyboard input faster, and at the same time with minimum CPU load. This helps all interactions with your Android phone to appear smoother, with the main beneficiary being games, which use touch controls. In the case of the Xperia Play, that also includes the dedicated gamepad, whose PlayStation symbols were
found in the Gingerbread SDK
way back in December.
The 1GHz Qualcomm Snapdragon MSM8255 chipset with an
Adreno 205
graphics subsystem in the Xperia Play might not be dual-core, but it achieves high enough benchmark scores of around 1500 on Quadrant, which is sufficient for the games you are likely to rock on the Android handset with smooth fps. The chip was probably top of the line when Sony Ericsson started working on the handset, before NVIDIA started pitching Tegra 2 to Google. It seems to be used in all of the new Android handsets from the Xperia line, so Sony must have gotten a discount to use it. Just kidding.
All system info apps we tried showed 400MB of user-available RAM and 380MB of user-available ROM, which is sufficient for the kind of games you are likely to find for the handset. Still, bear in mind that the handset has a single-core processor, so some upcoming games that we expect to be optimized for dual-core might not run very well on the Xperia Play. Exactly when such games will come out is still unknown though.
Internet, Connectivity and Software:
The app for browsing the Internets performs very well, with average pinch-to-zoom and double-tap response, compared to the dual-core handsets, for instance, but we are spoiled. We updated to Adobe Flash 10.2 and there was a slight boost in rendering Flash because of that. The 4" display has enough resolution to make text appear sharp and comfortable to read.
The Sony Ericsson Xperia Play we had was with European/Asian 3G GSM frequencies, but it will also be available in a CDMA flavor on Verizon, and maybe other carriers in the US. The handset rounds it up with Wi-Fi, Bluetooth and DLNA connectivity for wireless multimedia streaming, which has its own dedicated Media Server app to manage it.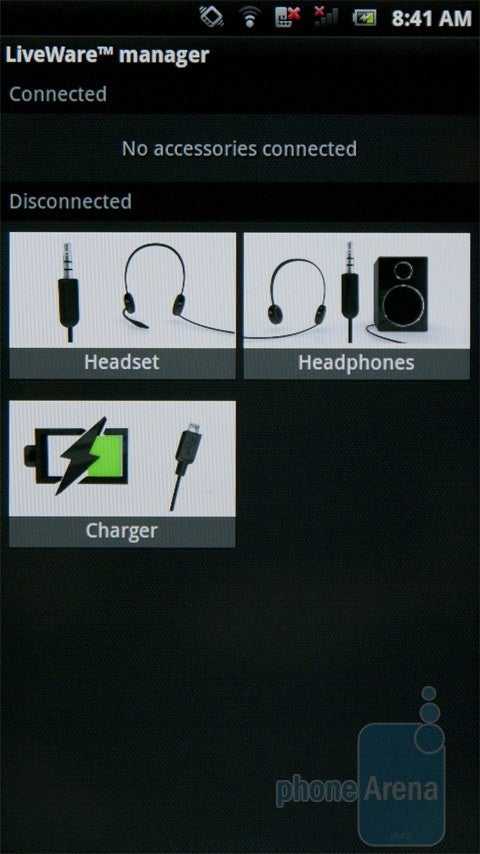 LiveWare
The lack of an HDMI port to connect the gaming-oriented handset to a big screen HDTV is puzzling at best, considering DLNA is not that wide-spread and fluid yet. Why did Sony Ericsson include HDMI on the thin Xperia arc, and castrated the Sony Ericsson Xperia Play which needs it more, is beyond us. Here we even have a dedicated gamepad, so it would have been logical to use it as such, with all the action happening on your living room TV via HDMI. Oh, well, in the next edition, we presume.
We guess you can use DLNA to stream your phone's screen to the TV, passing through a Windows 7 laptop with HDMI port, if the TV is not DLNA-enabled, but the lag might be significant. The Media Server app on the Xperia Play allows you to control what devices you stream to or from, and it also manages the media you want to share.
Another app worth mentioning is
LiveWare
- it allows you to start an application of your choosing when something is connected to the phone, be it a headset, headphones, or a charger. Thus you can start the music or video player each time headphones are connected, or automatically go into the desktop clock mode in Android, while the handset is charging. We also have the WhatsApp Messenger, which allows you to exchange text messages for free, and the usual suspects – TrackID for song recognition and OfficeSuite doc viewer and file manager – that have been present on Sony Ericsson's phones for a while now.