Samsung OMNIA HD i8910 Review
Samsung OMNIA HD
Performance:
OMNIA HD i8910
is monotonous and reverberating, as if the other person is in a tunnel or a bathroom. On the other hand, even if you lower the loudness, the effect is still clearly discernible and makes people´s voice sound unpleasantly sharp. Well, at least the loudspeaker is fairly useable…
Conclusion:
Well, here we are at the grand finale of our review on one of the most exciting cell phones as of now. The Samsung´s monster, the OMNIA HD i8910. We took a scrutinizing look at it, we used it to listen to music, talk, take pictures, capture and playback HD video content and it´s about time we passed out verdict. We have to admit that despite its size, it is one hell of an all-in-one, smart device. Aside from being the first cell phone capable of capturing and playback of nice quality HD video content, its 8-megapixel camera takes pictures with very good quality. The OMNIA HD sports an awesome 3.7-inch touch sensitive AMOLED screen and battery that lasts long. Still, the i8910 HD also has a few drawbacks. It simply loves fingerprints and discerning anything on the screen in direct sunlight is an uphill battle. The more annoying problem, however, relates to mediocre sound quality during talks. Anyway, we do believe it´s going to make it on the top 3 list of any high-tech buff and leave a lasting memory, simply because it sets a new standard on the all-in-one phone market.
We are able to recommend the other high-end multimedia phones, such as the
LG ARENA
,
Renoir
,
Samsung PIXON
and
INNOV8
as alternatives to the device. Bear in mind the first three are not "smart", the third doesn´t feature a touch sensitive screen and none of these delivers HD playback or capture capability, so the Samsung OMNIA HD i8910 is pretty much still in a class by itself.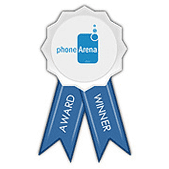 Pros
Huge AMOLED display delivering good image quality
HD video playback and capture and very good snapshot quality
Robust battery that lasts
Quality sound through a headphones and built-in loudspeaker
Slim form factor
Cons
Quality of sound during talk is below par
Image details are hardly discernible in bright light
Back panel flips open way too easily
Surface that loves fingerprints
Email settings are manually entered even when it comes to popular providers
OS:
Symbian 9.4
view full specs
Display
3.7 inches, 360 x 640 pixels (198 ppi) AMOLED
Camera
8 megapixels
Hardware

TI OMAP3430, Single core, 600 MHz, ARM Cortex-A8 processor


Size
4.84 x 2.28 x 0.51 inches
(123 x 58 x 12.9 mm)
5.08 oz (144 g)
Battery
1500 mAh, 13.5 hours talk time