Samsung Galaxy Trend Plus Review
16
Samsung has equipped the Galaxy Trend Plus with a surprisingly good for its class 5MP auto-focus camera, paired with an LED flash for those low-light and indoor scenes. Launching the camera app takes us to a familiar interface, arranged in a way that lets us easily access modes and settings. Speaking of which, there's a fair selection of modes and scenes. There's Night mode, Panorama, Burst shot, Sports, and more. On the downside, the camera app is laggy. It takes a while to boot and then it may require several seconds to focus and capture the image.
The good news is that in broad daylight, the Galaxy Trend Plus can snap pretty photos, with enough detail and accurate enough colors. Sure, there's a lot of noise in them, but as a whole, images look well worthy of being posted online. When shooting indoors, however, photos are blurry, with poor details, and colder-looking colors.
On the front of the device is located a VGA camera for selfies and video calls. Image quality is poor, but having a front-facing camera is better than not having one at all.
Sample Images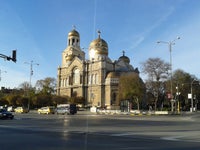 Technically, the Samsung Galaxy Trend Plus is capable of recording 720p video, but it isn't very good at it. Footage is grainy and low on detail, as if someone has stretched a 480p video to fit into a 720p frame. Indoor and low-light videos are even worse – barely usable, we'd say.
As expected, the Galaxy Trend Plus has Samsung's own music player pre-loaded. As a whole, the app is pretty good, focused on functionality over looks. Its layout makes it easy to use, with tabs on top and content listed in a way the user specifies. The mandatory lock screen controls and home screen widget are present, too. Alternatively, there's Play Music application for those who prefer Google's services instead.
The Samsung Galaxy Trend Plus fails to impress with its single loudspeaker located on its back. Its output is undistorted, but weak even at the maximum volume level.
Videos of up to 720p resolution are played back smoothly by the Galaxy Trend Plus, with most popular video file formats supported out of the box. DivX isn't out of them, but installing a third-party video player can rectify that. We can't imagine ourselves watching movies or TV shows on a phone with screen of this size, but we do find the Trend Plus suitable for checking out videos on YouTube. As for its stock Video player application, it is basic, but definitely usable.