Samsung Galaxy Tab 4 7.0 Review
19
A 3MP main camera that performs better than expected, and a 1.3MP front cam which suffices for chatting.
Some of you will be pleased that Samsung has included some special camera modes, such as Beauty Face and Sound and Shot. Besides that, there aren't many other options - there are auto-timer, exposure, and social sharing.
The 3MP fixed-focus main camera on the Galaxy Tab 4 7.0 turned out to be surprisingly good, despite all its limits. Perhaps it was the nice, sunny weather that did the trick, but the photos we took outside are satisfactory. Detail gets resolved well and the colors are reasonably sharp. The indoor samples have a smeary look to them, but the puny 3-megapixel cam still performs better than expected. Meanwhile, the 1.3MP front-facing camera is good news for video chatting.
Samsung Galaxy Tab 4 7.0 sample images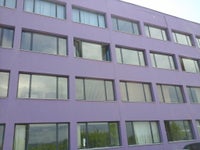 The main camera also records 720p videos in .mp4 format, and they look pretty stellar - and shaky, of course.
A fine tablet for entertainment.
The in-built Gallery app has some nice differentiating features, such as the ability to edit and send your photos as postcards with your writing on them. There's also Samsung's Buddy Photo Share, first seen in the Galaxy S3. Meanwhile, Samsung's Video Player doesn't stand out with anything too special, but the Music app is definitely one of the better stock music players around.The Samsung Galaxy Tab 4 7.0 plays the most popular video formats out of the box. Music sounds passable through the tablet's lone speaker, and as for video, 1080p clips encoded in DivX (.avi), H.264 (.mp4), MPEG-4(.mp4), and Xvid (.avi) run as expected.