Samsung Galaxy Tab 3 Lite Preview
A front-facing camera is sorely missing, and the rear 2-megapixel shooter looks very barebones.
The Galaxy Tab 3 Lite photographic capabilities are extremely limited. First, because it only features a barebones 2-megapixel rear camera with no flash, and second, because it's missing a front-facing shooter for video conferencing. Honestly, we'd prefer having a front camera on a tablet rather than a rear-facing one, but it is what it is.
The interface is the old Samsung one, without the fancy shooting modes you might have seen in the Galaxy S4, but it's still a very functional layout packed with features. You can do things like capture a panoramic image, apply filters, change the white balance, set a timer, and others on this rich interface.
Samsung Galaxy Tab 3 Lite Sample Images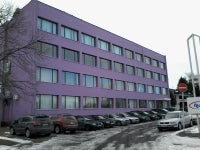 Question remains whether all that effort is justified for a snap from a barebones 2-megapixel camera. We will see in the final review, but you can check out some test samples from our pre-production unit right below.
Samsung claims it can playback 8 hours of non-stop video.
Multimedia is the bread and butters of tablets, and with the otherwise limited capabilities of the Tab 3 Lite, it's even more important. The 7-inch display might be small in tablet standards, but it's much larger than most smartphones out there, so watching movies or checking out images is an enjoyable experience.
The built-in video player is capable of running most common formats with ease (we played back 720p videos without a stutter), but some codec support like DivX is missing in our pre-production test unit. You can easily fix that, though, with a quick download of an app like the free MX Player from Google Play Store. Most importantly, Samsung claims the Tab 3 Lite can play up to 8 hours of non-stop video - neat!
We love the Gallery experience with Samsung's two-column app that makes jumping between albums of photos easy, and adds basic image editing capabilities.
For music, you have the Google Play Music app along with Samsung's own music player, and while both get the job done, we tend to prefer Samsung's application for its simpler interface, nice equalizer presets and folder view support.
Expectations
The
Samsung Galaxy Tab 3 Lite
should go on sale soon in the United States with a starting price of the very affordable $160, and it will be sold in Best Buy and other large retailers. In Europe the price is set at around €160 and in the UK the tablet costs £117 gbp. All those prices are for the Wi-Fi only model, while the 3G cellular data enabled version is expected to cost around $240 (€240 in Europe).
Nexus 7
and
Asus MemoPad HD 7
, both of which come with higher-res screens, more processing power and internal storage.
Finally, as affordable as the Galaxy Tab 3 Lite looks, it seems a bit overpriced for what it offers. After all, we have already seen devices like the 2012 Nexus 7 with better specifications, yet selling at a similar price, that would seem like a better choice.