Samsung Galaxy S8 vs OnePlus 3T
Camera
The OnePlus 3T captures cleaner, more detailed images that look better.
First, we look at specs: we have a 12MP rear camera with f/1.7 lens on the
Galaxy S8
and a 16MP f/2.0 rear shooter on the OnePlus. Both rear cameras have optical image stabilization (OIS). Up front, the S8 has an 8MP f/1.7 cam with auto-focus, while the OnePlus features a 16-megapixel f/2.0 front camera.
The camera apps on both phones are clean and simplistic, but we find the one on the Galaxy more intuitive and easier to use. The OnePlus has these hidden menus that are a bit of a pain to get to, while the Galaxy has all essential things within easy reach and we particularly like that you can start recording videos with just one tap, while it takes a few seconds to switch to video mode on the OnePlus.
Both have pro / manual modes, where you can control ISO, focus, shutter speed and white balance, both have slow
motion
and panoramas, both have time lapse, but the S8 also has a moving time lapse called hyperlapse. The S8 also has the Selective focus tool to blur the background and allow you to select the focus on a picture after you capture it, but it's too slow for most people to use. The S8 also has a virtual shot, a cool feature that gives you a 360-view of an object.
Image Quality
So which phone takes better pictures?
Here is what we have found: the Galaxy S8 has a more aggressive auto HDR option that kicks in in situations where the OnePlus HDR does not, but it often feels over the top, giving images an artificial, overdone HDR-y flavor. The OnePlus held itself great: it had a very slight disadvantage in terms of being able to capture dynamics (it burned the highlights a bit more), but it consistently captured significantly more detail in pictures and had less of that artificial oversharpening that we see on the S8. It is this big difference in captured detail that definitely puts the OnePlus ahead in good light: images from it just look better.
The front camera on both phones will inevitably be used for selfies, and selfies is what we shot to compare the two. The S8 renders my facial skin unnaturally warm, yellow, as if I was sick of some strange disease, while the OnePlus keeps it all very natural and good looking. Both are similarly sharp, but it is the better color rendition on the OnePlus that makes it stand out. There is one other thing: bokeh! Yes, we don't know how, but the front cam on the OnePlus captures selfies with a slight, but very welcome bokeh effect that allows the subject to stand out more clearly from the background. These two factors combined, and the OnePlus wins this round as well.
Samsung Galaxy S8 vs OnePlus 3T sample images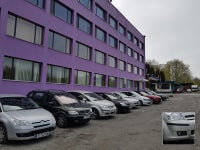 Video quality
Both phones support 4K video and with the surprising results from the still image comparison, we were even more curious to compare video recordings.
The same trends are evident in videos as well: much sharper detail and clearer looking footage from the OnePlus gives it a headstart, but there are additional factors that are of huge importance for video, and those are focusing and stabilization. The Galaxy S8 wins it in both: it has the faster, more stable, less hesitant focus, while the OnePlus focuses fast, but sometimes hunts a bit for focus in low light and does not have that rock solid lock on the focus. Both are not the best in stabilization, but the OnePlus is worse than the S8: its videos are more shaky, while the S8 is able to keep videos more stable and smooth.
So do we have a winner? Given all these added aspects, we'd call it a draw.
Sound quality
You have a single bottom firing loudspeaker on both phones and both sound good. Yep, just good, not great. We find the OnePlus slightly cleaner with less distortion and a better pronounced vocals, while the Samsung is a bit louder, but also with more distorted overall sound.
Of course, you have much better quality if you plug a pair of headphones in, and both phones come with a 3.5mm headset jack to do that.