Samsung Galaxy S8 vs LG G6
Camera
The camera can safely be viewed as the make-or-break aspect of any modern smartphone. With the
Galaxy S8
and the
LG G6
, we have two spectacular camera performers at hand.
There's a single 12MP camera at the back of the Galaxy S8, which is mostly similar to what we saw on the
Galaxy S7
in terms of specs. It has a 1/2.55" sensor with large 1.4μm pixels and a pretty wide aperture of f/1.7 that is guaranteed to suck in lots of light in challenging lighting conditions. There's also optical image stabilization present and a dual-
pixel
autofocusing system that does its mojo real quick.
Meanwhile, LG continues to back its dual-camera agenda, which couples a regular shooter with a wide-angle affair similar to the G5 and the
V20
. There's a regular camera with a 71-degree field of view accompanied by a 125-degree wide-angle one; both of these share the same 13MP 1/3" camera sensor that has somewhat small 1.12μmpixels. Aperture stands at f/1.8 for the main cam and f/2.4 for the wide-angle one. The smaller sensor and the narrower aperture of the
G6
spells bad things for its low-light camera performance, but there's only way to say if this will be the case.
In terms of interface, we find either phone quite intuitive and dead-easy to use. The advent of gesture-based switching between the different modes and cameras is a welcome addition to the Galaxy S8, while the G6 also takes a page of that book by allowing you to switch between the rear and front cameras with a finger flick.
Image quality
The Galaxy S8 and the LG G6 are pretty spectacular camera phones, definitely among the best in their class. However, a close inspection will eventually reveal that one of the flagships is the slightly better overall performer.
When it comes to color reproduction, the Galaxy S8 seems to have a small edge – it's not in each and every picture, but there are some instances where the S8 manages to come up with slightly more natural white balance than its rival. The G6 seems to favor slightly warmer colors, which is also noticeable in the portrait pictures it takes, which might sometimes lead to unnaturally yellow skin tones.
When it comes to detail, the Galaxy S8 tends to perform a tad better, mostly in situations that involve dimmer lighting. Indoors and in low-light is where the GS8 produces superior results. Otherwise, in bright and outdoor conditions, detail levels are mostly identical.
Front-facing camera
Up front, the Galaxy S8 has an 8MP f/1.7 selfie shooter, whereas G6 users will have to resort to a 5MP f/2.2 one up front their phones. Despite the megapixel difference and the fact that no one pixel-peeps on selfies, the two devices are pretty comparable when it comes to overall detail rendition – hairs, moles, and tiny skin imperfections are present for you to examine if you wish so.
Samsung Galaxy S8 vs LG G6 front camera sample images
Video-recording
In terms of video recording, both devices shoot 4K at 30fps and are pretty comparable in terms of quality. The G6 tends to over-sharpen things somewhat in this mode. It also takes a bit longer to autofocus when a subject is introduced in close distance, whereas the Galaxy S8 passes this test with flying colors. The G6, on the other hand, records a bit better audio than the Galaxy S8, with human voice being truer to real-life than the Galaxy S8, which has a specific hollow vibe to it.
Samsung Galaxy S8 vs LG G6 sample videos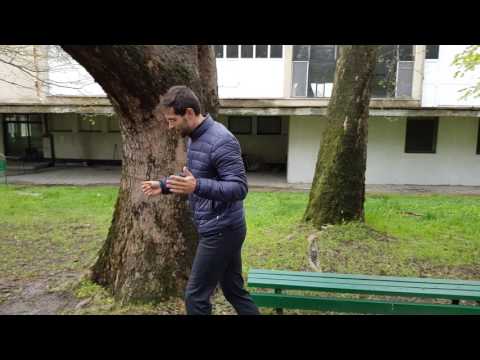 Multimedia
HDR video content? We are not worthy!
In terms of multimedia, both the Galaxy S8 and the G6 are both focused on solving a problem we don't have yet, i.e. consuming 2:1 video content on our smartphones. Because of the up-and-coming Univisium video format which utilizes this aspect ratio, the Galaxy S8 and G6 are future-proof and ready to tackle any content that's shot in this ratio.
However, this premature solving of a non-existing problem only creates new issues with the predominant kind of media out there – watching 16:9 videos on such displays is tricky. In particular, watching such a video on the G6 will introduce letterboxing, which essentially means you are losing some screen real-estate while consuming regular videos and movies. In the meantime, the Galaxy S8 lets you stretch regular 16:9 videos to fill in the whole display of the phone, but some of the top and bottom will be cut out, which is not very nice.
As we mentioned before, both phones support HDR video content, which looks stunning and all but is quite scarce and hard to come by yet.