Samsung Galaxy S8 Review
69
Camera
A superb smartphone camera; that oversharpening, though...
This year, Samsung isn't increasing or decreasing the megapixels in the main camera of the
Galaxy S8
and S8+. Instead, it's worked to enhance the image processing aspect of the image capturing process. To be honest, processing was already quite good on Samsung cameras, with probably the only exception being a noticeable oversharpening effect, which could make some pictures look a bit artificial. It'll be interesting to see in what direction Samsung has taken image processing in the
Galaxy S8+
.
Hardware-wise, the single rear shooter is a 12 MP unit with aperture of F1.7,
1.4
μm
pixel
size, and focal length of 26 mm. The camera UI is very cool: the important shutter and video rec buttons are neatly placed on one side, while on the other are the HDR, Flash, and Settings. Speaking of settings, the camera is as versatile as ever, with a plethora of shooting modes and adjustments available. In addition to the standard pinch-to-zoom way of digital zooming, you can now also do so by sliding the shutter button up or down (if in landscape), which is a very natural feature that works surprisingly well.
The pictures coming from the Galaxy S8 and S8+ are fantastic. Detail levels are superb, dynamics are great, and colors are mostly realistic. Very rarely, there would be a slight white balance issue, but in more than 95% of the time, colors are spot on. Unfortunately, there is still some of the oversharpening going on, which may be especially annoying in certain situations – see the pictures with the waterfall for example.
Low-light photography is once again at the highest level imaginable. What separates the S8 from its rivals is the incredibly high level of detail preserved. Colors also remain remarkably lifelike, which is a quality not unique to the Galaxy S8, but in combination with the impressive sharpness, it all makes for quite the exemplary night-time and low-light photographs.
Samsung Galaxy S8 sample images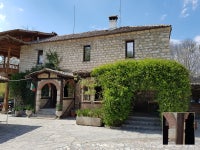 Multimedia
The loudspeaker of the new Galaxy is very powerful, but also quite substantial. Sure, it can't deliver bass or anything close, but for a phone speaker, it sounds very well.
Samsung is making a big deal out of the included AKG earphones, and for the most part, they seem to deliver. Somewhat. Depending on whether you manage to get them to stay in your ears. They are of the in-ear type, which is never too comfortable to wear, and some of us had trouble making them stay in their place tightly, resulting in a dramatic loss of low frequencies. If you managed to push them deep enough in your ears, and make them stay there (which the author of this review was unable to do), then you'll be able to enjoy high-quality sound.