Samsung Galaxy S6 edge vs HTC One M9
9
Camera
HTC's supposed savior, the 20-megapixel camera of the One M9, is no match for what the Galaxy S6 edge has in store.
Samsung's Galaxy S line has always been synonymous with great camera quality, and the company wasn't about to drop the ball with the Galaxy S6
edge
. Instead of focusing on the software side of performance, Samsung has taken a two-pronged approach by making sure to deliver some exciting hardware updates, too. To that end, the Galaxy S6 edge's 1/2.6", 16-megapixel rear camera comes with a wider-than-before f/1.9 aperture lens and an optical stabilization gizmo attached to it. The selfie snapper, too, has received a commendable update, and now offers 5-megapixels of resolution and equally wide, f/1.9 aperture lens.
We have reasons for excitement when it comes to the HTC One M9, too, for the company has finally made the decision to ditch the 4-megapixel UltraPixel camera of old, which is now relegated to selfie service. At the back, we're now looking at a 1/2.4", 20-megapixel sensor with relatively narrower f/2.2 lens and a dual LED flash.
Software-wise, we've got to say that we're witnessing a small miracle – HTC's, not Samsung's, camera app is the more feature-filled. We've got a ton of shooting modes, including panorama, night, HDR, and bokeh, not to mention numerous photo-editing goodies built right in. With the Galaxy S6 edge, we've got a re-designed, lighter camera interface that is easier on the eyes and snappier in its performance. The number of shooting modes has been brought down, too, but we still have the likest of panorama, HDR, Selective Focus, Virtual Shot, and a new Pro mode that gives you access to manual controls such as ISO, white balance, exposure correction, and focus. Another seemingly simple, but quite effective, feature – exactly the type we love – also can't be glossed over. More specifically, the Galaxy S6 edge's physical home button can now be pressed twice in order to almost instantaneously enter the camera, regardless of what you're doing at the time.
So let's talk image quality. Starting with daytime snaps taken outdoors, as with most high-end smartphone cameras, there's little to complain about. Both the One M9 and the Galaxy S6 edge produce very decent photos, and neither can be said to visibly outdo the other. They differ though. For example, the One M9 takes slightly brighter photos in general, much of that owed to a more aggressive ISO tweaking. On the other hand, the Galaxy S6 edge produces a bit more compelling-looking images, with warmer tones.
Indoors, however, we're looking at quite different a match-up. Unfortunately for HTC, the One M9's camera simply can't compare, as even before we have to point out the obvious color inaccuracies and far more severe noise levels inherent to the stills it produces, we have already called it a loss. That is for a reason – the software algorithms governing the camera push the shutter speed way low, likely in hopes of producing a sufficiently bright photo, but that comes at the terrible cost of blur – an issue the S6 edge does not suffer from.
The struggle is similarly one-sided when it comes to nighttime and low light performance. The Galaxy S6 edge fares considerably better, bringing us far brighter and more representative photos that offer more detail at the cost of much less noise. Indeed, in order to produce even barely passable night stills, the One M9 cranks up the ISO to 1600, and still fails to let us see much of the scene.
Sample images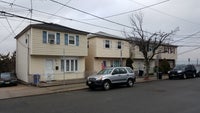 The One M9 gets no reprieve in terms of video, either, for its footage proves softer, less detailed, and a whole lot shakier than the Galaxy S6 edge's. That last part is obviously the work of the optical stabilization gizmo on board Samsung's flagship, as it does a splendid job compensating for trembles and shake in your hands.
In conclusion, we'd be remiss if we didn't make one thing perfectly clear: if camera performance is your number one priority, the Galaxy S6 edge is the clear choice between these two new flagships.
Multimedia
If you stellar audio is what you seek, the One M9 is the no-brainer choice here.
On the multimedia front, we have a few interesting developments. For starters, much like with the rest of the interface, Samsung has toned down the over-the-top rhetoric, and is now treating us to far cleaner visuals when it comes to essentials such as the Music player and the Gallery. In comparison, HTC's solution feels markedly premium, and we have to admit that we tend to like the brushwork better. Interestingly enough, this is another area in which Samsung's implementation proves slightly less feature-rich than HTC's – something we wouldn't dream of just two years ago.
Going back to music, if you happen to enjoy using your device as a portable speaker, then you'll enjoy what the One M9 has to offer more. Sure, we measured a slightly higher volume coming out of the S6's loudspeaker (75.4 dB vs 72.8 dB), but the difference is small enough to be nigh impossible for us to really tell. More importantly, the stereo front-facing blasters of the One M9 produce richer and more immersive tones, whereas the bottom-placed grill of the S6 lets out more subdued and thin sounds.
If you, instead, mostly use your smartphone with a pair headphones (as most people do), then it's even more clear-cut for you – the One M9 offers the astounding 1.022 Volts of power, while the Galaxy S6 proves a distant second, with just 0.53 Volts going through its 3.5mm jack.