Samsung Galaxy S6 edge vs Apple iPhone 6
19
Camera
The 16-megapixel OIS camera on the Galaxy S6 edge is a great shooter, especially for video with 4K and for daylight stills, but in low-light conditions it is a step behind the iPhone 6.
The Samsung Galaxy S6
edge
sports a 16-megapixel rear camera with optical image stabilization (OIS) and a 5-megapixel selfie cam up front, while the Apple
iPhone 6
comes with an 8-megapixel main camera that lacks OIS and a 1.2-megapixel selfie shooter.
Both cameras protrude slightly (more so on the S6 edge) because of the larger-than-typical size of the camera module, as well as the very thin size of the phones. The S6 edge main camera features the 1/2.6" Sony IMX240 sensor. The iPhone 6, in comparison, features a smaller, 1/3" sensor but opts for a more conservative 8-megapixel resolution, which results in larger, 1.5micron pixels that theoretically provide an advantage for low-light shooting.
Samsung's new double-click shortcut to start the camera works admirably well. The iPhone 6's camera app is also quick to start but not as fast as the one on the S6 edge. Samsung has also cut unnecessary complication off the camera interface leaving the essential options clearly visible, and that's a good thing. On the other hand, the iPhone 6's camera app is traditionally simplistic and user-friendly. You can tap to focus on parts of the image, and also hold your finger and swipe up and down to manually tweak exposure, but pretty much all other manual controls - including shutter speed - are available via third party apps like ProCamera 8.
That's all good, but what about image quality? Right out of the box it's clear that the Galaxy S6 edge captures great-looking images with especially strong performance in bright sunlight where detail is aplenty and colors are reproduced in a natural, pleasing way. In similar conditions, the iPhone 6 also captures good detail, with colors on it that seem a bit overblown and not all that natural, but also very impressive because of that added boost.
Turning over to low light conditions, noise and color inaccuracies start to creep into the images from both devices. It's often a hit-or-miss affair, with the Galaxy S6 edge faring better in some scenes, and the iPhone 6 coming out on top in other. The Galaxy S6 still dominates in the details department, though blurriness in some photos causes it to sometimes lose to its adversary in that very department. The single LED flash on the S6 edge does a good job lighting up the central part of an image, but it does introduce a slight unnatural cold tonality, while the iPhone 6's dual LED flash is a bit harsher in its power, but does not distort colors in an image.
The front camera is one area where the Galaxy S6 edge steps up its game and is a leap ahead of the iPhone 6: selfies on it turn out very good, with a lot of detail, and it's neat that you can tap on the heart rate sensor with a finger as a quick shortcut for selfies. The iPhone 6, in return, features very low-res images that don't look nearly as good.
Sample images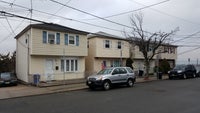 In terms of video, we are genuinely impressed with the quality of recordings on the S6 edge: 4K video capture features rich color and outstanding details, while optical image stabilization makes sure that recordings are not shaky. We're also smitten with the super-quick auto-focusing speeds of the S6 edge and its capability to track focus as an expensive camcorder. It also has the option to record in 1080p at 60 fps for lovers of those
motion
-blur-free high frame rates. The iPhone 6, on the other hand, lacks a 4K option, and while video on it also looks very good with super fast auto-focusing - it does not have optical stabilization and recordings can turn out annoyingly shaky.
Multimedia
Material designed-inspired Galaxy S6 edge media apps improve the video and music experience, while the iPhone comes with the huge iTunes ecosystem to its advantage.
The new TouchWiz on the Galaxy S6 edge introduces a material design cues to stock apps. The newly updated music and video player apps in particular feature a minimalist, flat and airy style, and they are color-coded for easy differentiation. The functionality has not changed much at that: music is sorted by genre, artist, album, and so on, and you can manually select music from folders, which is nice. The iPhone 6, in return, has an equally straightforward app, but file synchronization is handled exclusively via iTunes and it is impossible to simply drag and drop your MP3 collection onto it.
The image gallery on the S6 edge is now also cleaner with a modern flare: it's much cleaner, with a white backdrop, and a zoomable timeline with the capability to quickly scroll through images in time. Image editing options are built right in the gallery app, so that you can control brightness, contrast, saturation, temperature, and the hue of an image. The private mode that allows you to hide sensitive images is a welcome feature. The iPhone 6 gallery on its part is also a clean and simple app that offers similar neat image editing options with an even more intuitive controls, but it lacks the flare of things like private mode.
Both phones come with a single loudspeaker located on the bottom of the phone. The Galaxy S6 edge speaker goes up to the fairly loud to 73.7dB, and the iPhone 6 is even louder, pumping out tunes at up to 74.5dB. Quality on both is above average, but they lack the depth and richness we've seen in, say, the HTC One series.