Samsung Galaxy S5 Review
Camera
16 megapixels, large sensor, phase detection autofocus – it's a treasure trove for smartphone camera enthusiasts.
Samsung's
phone
cameras are usually among the very best ones available, and we have every reason to think that the one in the Galaxy S5 would further cement this position. Equipped with a new, 16 MP camera with a relatively large, 1 / 2.6" sensor (native aspect ratio is 16:9), and an aperture of F2.2, this already shapes up as a rather formidable camera module! The individual
pixel
size of the shooter is 1.12 micron, suggesting that digital noise should be kept at reasonable levels.
There's also an interesting new shooting mode, Selective Focus, which lets you change the in-focus object in a photo after taking it. Basically, in this mode, the handset takes a number of images with different focus, and then you get to choose which one you want to see – with the foreground object being in focus, or with the focus being on the background.
So, what about the actual quality? Is this 16 MP snapper any good? Of course – it's an excellent camera! The images produced by it have a wonderful detail level – everything looks exceptionally sharp and fine when viewing the images from a zoomed-out view. Viewing them in actual size reveals some areas where pixels kind of blend together, but why would you need to view 16 MP photos in actual size... Colors are more than realistic – neither too warm, nor too cold. The fact is that if you're looking at a photo taken with the Samsung Galaxy S5, chances are that the things in that photo have looked exactly the same way in real life, at the time when the picture was taken. The handset also seems to be doing a very good job with exposure – we noticed that it made the more preferable decision in some tricky situations, even if that meant cranking up the exposure in a very dark room, just so that we can actually see what's been there in that room, despite all the noise.
We can't help but commend Samsung for designing this camera so that it can focus object that are extremely close to the sensor. Well, it does, and this enables you to produce some truly breathtaking macro shots. As an added benefit, should you focus on something that's very close to the camera, everything that's in the background gets nicely blurred, achieving a nice depth-of-field effect that is almost as intense as that produced by the Duo camera of the HTC One (M8).
Recorded 1080p video looks pretty decent, though it doesn't blow us away. Details and colors are fine, but you can really feel the lack of optical stabilization, as the image is quite jerky. The GS5 also lets you record 4K video, which naturally has better resolution, but all in all there's nothing to write home about in this respect. It's just a fine camcorder.
Samsung Galaxy S5 Sample images
Sample Videos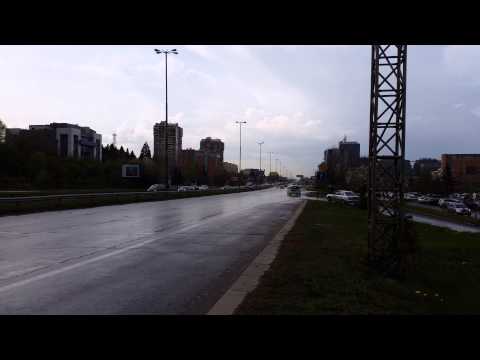 One of the very best multimedia experiences you can get in a ~5" form-factor
The music player of the Galaxy S5 is fresh and inviting, just as most of the other apps on the device. It can filter your musical content in a variety of way, including folders, which is always welcome. In addition, you can use it to access content on other Samsung devices, using your Samsung account.

The GS5's player comes with the mandatory set of sound-enhancing tools, such as SoundAlive, audio effects, Adapt Sound, and Smart Volume. The sound coming through the speaker is very powerful and actually pretty deep (for a phone speaker). Literally the whole handset starts to vibrate when playing some more dynamic music! Sadly, the earphones that come in the retail box aren't as impressive, as they tend to deliver a mostly flat, lifeless sound.
Naturally, the Samsung Galaxy S5 is a true multimedia powerhouse – you can
play
each and every media file type that you can think of, and even if you do come across an unplayable file, you should be able to easily fix this by installing a compatible third-party app. As you can imagine, the 5.1" Super AMOLED display is perfect for enjoying video or games – the contrasty visuals, as well as the extremely vivid colors make content appear quite fancy and eye-pleasing. Add the great viewing angles to the mix, as well as the fact that there aren't any on-screen buttons to take up precious space (very important for gaming), and you actually have on of the very best, if not the best phone in the ~5" category when it comes to audio-visual entertainment.
Creative individuals will be able to take advantage of some built-in media-editing features in the Galaxy S5, in order to enhance their photos, or create fancy video highlights. The Galaxy S5 sports a full-fledged photo editor, as well as an option allowing you to compose a nice photo-collage.