Samsung Galaxy S4 Review
99+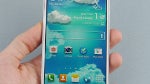 Call quality
The Galaxy S4 delivers passable call quality - nothing spectacular. The earpiece is loud enough, but the quality of the sound isn't among the best. Things are a bit better on the other end of the line, though there's some room for improvement as well.
The loudspeaker is powerful and manages to retain a decent sounding most of the time without starting to crackle too much.
Battery
Samsung hasn't announced any official information regarding the battery life of the Galaxy S4. Is this because it's embarrassed? Not likely! The phone is equipped with a beefy 2600mAh battery, so it should definitely provide enough juice for a full day of use. Judging by our observations, though, you can even get two days out of the Galaxy S4 if you are more of a moderate user.
Conclusion
Samsung didn't exactly catch us by surprise with the Galaxy S4. Pretty much all the hardware improvements like the faster processor, better camera, and 5" 1080p screen were expected. Samsung simply had to have those in the Galaxy S4 if it wanted its product to be relevant in 2013. However, it's the flawless implementation of all the features that makes the Galaxy S4 the superb smartphone that it is. Design-wise, the latest Samsung flagship is nothing special. It looks OK and is comfortable to hold. We're more than happy to see that Samsung has managed to make the smartphone even smaller than the GS III, which is a remarkable achievement, considering the bigger screen.
The top-notch performance and general lack of issues continue to be among the Galaxy S's strongest sides. If you're the kind of geek who's always running benchmarks on their phone, trying to squeeze every possible bit of performance out of it, then chances are you'll fall in love with the Galaxy S4, which is one of the fastest, if not the fastest Android phone around.
When it comes to appearance, the Galaxy S4 may not be particularly impressive, but it's extremely slim, light and easy to handle. This, along with the myriad of custom features make the Samsung Galaxy S4 one truly brilliant Android smartphone – a likable life companion.
Software version of the reviewed unit: Android 4.2.2, Build: JDQ39.I9505XXUAMC6_CSB
Update

: Read our Galaxy S5 review!