Samsung Galaxy S4 Review
Internet and Connectivity
Strangely, this isn't one of those problems that you can fix with a quick install from the Play Store, as none of the popular third-party browsers are as capable as the Samsung browser. Dolphin Browser is about equal when it comes to performance, but it doesn't support Flash if your handset is running Jelly Bean, which the Galaxy S4 is. All others seem to be slower, or have some other issue, but of course, you can always have them on board as well, if you've gotten used to some of their special features.
The Galaxy S4 comes with LTE support, as well as HSPA+ 42.2 Mbit/s downlink and 5.76 Mbit/s uplink speeds, when LTE is not available. Additionally, the device is equipped with all Wi-Fi protocols, Bluetooth 4.0 and an IR blaster, if you're in the mood of using the GS4 as a remote control.
The GPS of the GS4 works very well and manages to quickly pinpoint your location on the map.
Camera
Both the Galaxy S II and III were top-notch camera phones, so we expect nothing less from the Galaxy S4's 13MP shooter. Not only does the camera have 13 megapixels, but it's also full of other features, which aim to make it more versatile and fun to use. Aside from the standard settings like resolution, exposure and effects, it also sports a number of useful shooting modes like Beauty face, Night, Best face, Best photo, Sports and so on. These different shooting modes can help you achieve better results when using the camera in these specific scenarios.
The new camera-oriented features in the GS4 are Dual Shot (combines footage from the rear facing and front facing cameras into one video), Sound & Shot (takes a photo with an accompanying sound clip), Drama Shot (takes a series of photos of a moving object and merges them in a single photo), Cinema Photo (allows you to animate certain elements in the photo) and Story Album (creates a photo-album using the shots you've taken).
The 13MP camera of the GS4 is very good. Photos come out very realistic, with natural and vivid colors at the same time. The handset exposes its frames well – we didn't notice many over- or underexposed areas in the photos we took. Details are very good, while noise is kept to a minimum when shooting in daylight. Moving indoors, the situation gets dramatically worse, with noise becoming much more evident, and fine details starting to appear washed out. On the bright side, the colors stay natural.
Naturally, the Samsung Galaxy S4 can record 1080p video, which is perfectly smooth, but we noticed that it's not superb in the details department. It's still very good, but we expected a bit more. The other aspects of the video like colors and exposure are alright. The microphone is mostly mediocre – the sounds that it captures are rather high and sharp.
Samsung Galaxy S4 camera samples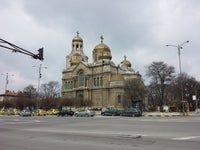 Multimedia
The versatile Music Player of the Galaxy S4 neatly organizes your music by Artists, Albums, Songs, Genres, Recent and Playlists. It displays large and beautiful album art, and features a bunch of "advanced" options like an equalizer with presets, including a custom one.
The GS4 doesn't feature stereo speakers. Instead, it has just a single speaker positioned on its back side, which, however, sounds very well. It manages to emit mostly loud and clear sounds that aren't irritating to the ears even at the highest volume settings.
This is one amazing display for video playback and gaming! It's just made to let you enjoy your favorite multimedia content - it's both super-big and super-vibrant thanks to the AMOLED technology. And, with the new settings allowing you to make it display a bit more realistic colors, it might even be acceptable for the purists out there. One thing is certain, almost all people you show it to will be wowed.