Samsung Galaxy Note II vs Apple iPhone 5
99+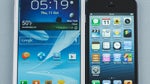 The Samsung Galaxy Note II camera interface has most major options we are accustomed to with flagship Androids, like face/smile recognition, Panorama, HDR, low light mode and so on. It also offers an abundance of scene and focus modes, as well as number of color effects.
The
iPhone 5
mostly takes care of everything on its own, deciding what is best for the scene in front of it on the fly, and sports a fast HDR mode for tricky lighting situations. There is a new option for panoramic photos introduced now, which stitches many megabytes of photos (up to 28 megapixels) very quickly with very good end results.
When it comes to picture quality, the phones are about equal outside under broad daylight, with high levels of detail and good color representation, without excessive noise. The iPhone 5 manages scenes with high dynamic range better, though, whereas we get slightly overexposed bright spots with the Note II, and overall more washed-out photos in the sun. The iPhone 5 also sports more contrast in its pictures, making them more visually appealing.

Samsung Galaxy Note II Panorama

Apple iPhone 5 Panorama
The
1080 videos
from the iPhone 5 and the Note II fly smooth with 30fps inside and outdoors, and exhibit the same great amount of detail and crisp focus as the still scenes, with no visible artifacts or skipped frames, yet the iPhone 5 footage comes with higher contrast, and looks less washed out under bright sunlight.
Samsung Galaxy Note II Sample Video:
Apple iPhone 5 Sample Video:
Samsung Galaxy Note II Indoor Sample Video:
Apple iPhone Indoor Sample Video:
Multimedia:
The picture and video gallery on the Note II sports the added advantage of splitting the screen with folders on the left for faster navigation, and it also has richer editing capabilities built into it.
The music players on both devices offer tune categorizations and minimalistic interface, with more functionality offered by the Note II via sound modes and equalizer presets that are built into the player interface. Note II also has an FM radio. The loudspeakers are of excellent quality on both handsets in terms of strength, but the iPhone 5 unit sounds a tad fuller and clearer.
As far as video playback goes
, the Note II has the upper hand, not only because of the gargantuan 5.5" display, but also since it plays every format you throw at it, up to 1920x1080 definitions. Here the Note II battery life gets a boost compared to the iPhone 5, as the AMOLED screen consumes less energy compared to LCD when displaying colorful scenes. The advantage is commensurate with the one of iPhone 5 when browsing - an hour and change more for the Note II out of runtimes already in excess of 10 hours of video playback for both devices. And if you are watching Die Hard 2, with a lot of snowmobile chasing through the white wilderness, the roles might be reversed.