Samsung Galaxy Note 4 vs HTC One (M8)
24
Camera
The 16-megapixel OIS camera on the Note 4 captures great images with an excellent amount of detail, and it does 4K, while the M8's UltraPixel is sub-par.
The Samsung
Galaxy Note 4
features a 16-megapixel main camera that supports optical image stabilization, while HTC perseveres with its 4-megapixel "UltraPixel" camera setup, with a secondary rear "Duo" camera that serves primarily for adding a fake bokeh effect to images.
Unfortunately, when it comes to important technicalities like the sensor used in the Galaxy Note 4, Samsung is not sharing any details. We will thus assume that it's using the same 16-megapixel 1/2.6" sensor as in the Galaxy S5 with the same phase-detection auto-focus. HTC, uses a 4-megapixel OmniVision sensor, the OV4688, of a nearly 15% smaller, 1/3" size. Both shoot in a 16:9 native aspect ratio. In terms of optics, the lens on the Note 4 has a focal length of 31mm (in 35mm equivalent) and aperture of f/2.2, while the M8 has a wider 28mm lens with a faster, f/2.0 aperture.
Turning to the camera app, both HTC and Samsung have simple and user-friendly controls on the surface with a separate image still and video recording buttons. Under that cover, though, you have access to a lot of manual settings on both - great for those who want such level of control. HTC's implementation of manual mode, however, is the one that really stands out with easily adjustable sliders, all conveniently placed on one screen: you can control ISO, white balance, focus (you have manual focus option), and so on.
When it comes to image quality, the Galaxy Note 4 captures an impressive amount of detail, with pleasing colors (just ever so slightly on the cold side), and a fairly dynamic look to shots. The HTC One (M8), on the other hand, has images that are much less detailed, but the bigger issue is that they lack in dynamics and white balance is often way off.
Turning over to low-light photography, the Note 4 does well with images turning out with very little noise, as the optical image stabilization on board can be felt, and color rendering is also pleasing. The One (M8) has low-light shooting as its forte, and it indeed suppresses noise nicely, but images turn out with slightly overblown and often with unnatural colors. You have dual LED flash on the M8, and it automatically adjusts its brightness depending on the distance from the subject. In most shots, it lights up the frame very nicely, without affecting color accuracy. The Note 4's single LED flash is also capable of lighting up the frame sufficiently, but it introduces a slight bluish cast.
The Note 4 has a 3.7-megapixel front camera, and it can capture some decent selfies, while on the HTC One (M8) we're witnessing a very unusual situation - its front camera actually has a higher-resolution than the main, UltraPixel camera. The front snapper captures 5-megapixel selfies, and those look very detailed and we'd say a notch better than those on the Note 4.
Sample images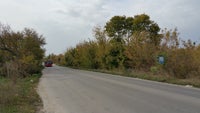 When speaking of video, the Note 4 is capable of recording 4K at 30 frames per second (fps), or 1080p at either 60 fps or 30 fps, while the One (M8) is only capable of recording 1080p at 30 fps. 4K is a nice extra that looks great, but it has its limitations - you can record only 5-minute long clips, those recordings turn out very large in size (there is still no H.265 encoding on the Note 4), and probably more importantly, we haven't seen many 4K monitors or TVs out there just yet.
Comparing apples to apples, or 1080p recording at 30fps, we can see that the Note 4 again has the upper hand with nice and vivid footage, with the added bonus of optical stabilization. The One (M8), on the other hand, does well, but you can feel every shake of your hand. The quality of sound recording is very good on the M8, but it's even better on the Note 4 that features three microphones for better noise cancellation.
Multimedia
The accurate screen on the Note 4 makes media come to life, but its speaker is on the quiet side. The One (M8) has got its excellent speakers for a great sound experience.
The large, 5.7-inch display is a great asset when it comes to media consumption, and that has been one of the main reasons for the success of the Note phablet series. Add to this the fact that the Note 4 is coming with a display that is also very well calibrated, with vibrant, realistic colors, and it has an important advantage on hand, especially for photography enthusiasts.
Both handsets are capable of handling various movie formats and encoding with ease, and the video app on the Note 4 displays your collection of videos with a nice live animation, showing you a quick glance of its contents. The M8, on the other hand, has a very capable gallery that creates an automatic video reel of all your photos and videos for the day, which is a nice touch.
The One (M8), however, does have a hidden ace up its sleeve, and that is its superb sound output via two spacious front-firing speakers that provide a depth and richness of sound that is unmatched in the smartphone market. This is important for all sorts of media - videos, games, and music, of course. Samsung's speaker, in comparison, sounds disappointingly average.