Samsung Galaxy Grand Prime Review
18
Camera
An entry-level phone with elementary results from its camera.
We're spoiled, that's just the honest truth. Being jaded by all of these high-end phones, we shouldn't be too concerned that the Samsung Galaxy Grand Prime is armed with an 8-megapixel rear camera – while the front-facing one chimes in at 5-megapixels.
Despite its unappealing camera specs sheet, it's nice to see that Sammy doesn't refrain from giving it the same camera experience as its highly-esteemed siblings. There's a lot of fun available with this, since it blends Samsung's diversified shooting modes with a useful manual mode as well – albeit, the shutter speed is controlled by the camera.
Continuing with the theme of bland and boring, its camera doesn't generate anything mind-blowing to get us away from the juggernauts in the space. Sure, some might be fooled into thinking it takes exceptional photos, but our eyes tell us that there's nothing memorable whatsoever produced by it. While it's decent for ideal shooting conditions (think plenty of lighting), it's a total wash when it comes to low light, due to its muddy details, inconsistent color reproduction, and heavy noise.
Samsung Galaxy Grand Prime sample images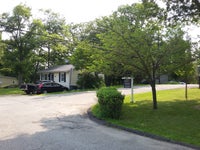 Likewise, it's not a strong performer either with its 1080p video recording quality. There's just simply a lack of intensity with details and colors to make its quality within reasonable acceptance.
Multimedia
Ouch, its rear firing speaker is severely underpowered.
Even though it's more than capable of playing back all sorts of high-definition video content with no hitches to its playback, the dullness of the screen in conjunction with its weak viewing angles doesn't make it a stronger candidate for the occasion. It suffices, obviously, but don't expect a world-class experience here.