Samsung Galaxy Grand 2 Review
24
Camera
The 8-megapixel main camera captures sharp images that look good in most conditions, but sometimes get colors wrong. 1080p video recording is also sharp and very smooth.
The Samsung Galaxy Grand 2 features an 8-megapixel auto-focus camera with a single LED flash, as well as a 2-megapixel front-facing camera.
Images captured on the main camera look fairly detailed and mostly good in terms of colors, but if we had to pick the nits, we'd say there were also a few instances where it miscalculated colors, shooting colder pictures that did not look that good. On the whole, though, the images captured on the Grand 2 are definitely above the average for this price class, looking sharp, vivid and generally noise-free. Indoors, in lower light scenarios, we are also pleased with the Grand 2 camera. It preserves colors close to their natural hues, and while noise understandably starts getting noticeable at higher ISOs, it's managed well.
We should note that the focus is rather sluggish – in a perfect case, it takes about 1 second to lock, which is fine. Depending on the situation, it may take 2 or even 3 seconds, which feels rather slow. It is also rather tricky – when you press the shutter key, the Grand 2 will snap a photo no matter if the focus is locked or not. This allows you to snap images extremely quickly, which is useful when you want to capture something instantly, but is a double-edged sword.Instead of just tapping the shutter and waiting for the phone to focus and snap a photo on its own, you will have to pay attention when it locks the focus (this happens when a little square appears on the screen and turns from white to green) and just then press the shutter. Otherwise, you will end up with an out-of-focus shot, which happened to us a few times.
The camera also has an HDR shooting mode that would come in handy when you want more dynamics in an image (for example, when shooting an object against the sun or other very bright background), but capturing an HDR shot is slow and requires a steady hand.
The 2-megapixel front camera is a fairly good tool for your selfie addiction. Samsung is also including a beauty mode that will add an unnatural smoothening to your skin that will eventually hide any imperfections like wrinkles by blurring them.
Sample Images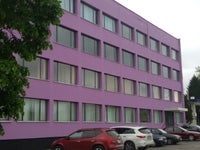 The camera can also record video with up to 1080p resolution at 30 frames per second. Recorded footage looks pleasingly smooth and sharp, and there's little to dislike about it. This little, however, includes the lack of continuous auto-focus (you have to manually tap to re-focus), and no optical image stabilization (OIS). Sound recording in videos is decent and on par with your average expectations, but does not stand out in any way.
The Grand 2 lacks support for some codecs, but is otherwise, its large display is a great asset for watching movies on the go.
The large 5.25-inch display on the Grand 2 is great for watching video on the go or browsing through photos. Samsung's Gallery app neatly categorizes your pictures in folders, and in each folder you have the handy option to resize the image thumbnails. The Grand 2 ships with a video player that runs some common video formats, but we could not get it to play Xvid and DivX-encoded clips out of the box. You can easily fix this by downloading a free video player like MXPlayer from the Google Play Store, though.
For music you have both Samsung's custom player and Google Play music. Both are good enough, categorizing your music collection neatly, and displaying large and impressive album art. In terms of settings, Samsung's solution offers a bit more flexibility with support for per-folder music playback, but apart from that, both are practically equally capable. Sound output via the loudspeaker is loud and sufficiently clear, without being outstanding in any way.