Samsung ATIV S Neo Preview
Camera and Multimedia
Windows Phone 8 devices like the Samsung ATIV S Neo come with a pretty versatile
camera application
that lets you tweak a bunch of things like the focus mode, white balance, exposure, ISO and more. Working with the settings is comfortable as they are all found in the same place, however, since they are all under the same list, it would have been nice if the list itself could occupy a bigger part of the screen so as to minimize scrolling.
Naturally, we cannot comment on the quality of the test shots we took with the S Neo, because our unit isn't final, but as always, we're posting them here for you to see.
Samsung ATIV S Neo Sample Images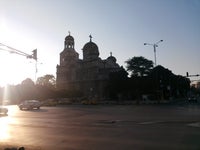 Samsung ATIV S Neo Sample Video:
Thanks to the hub-oriented structure of the WP8 operating system, consumers will find it very easy to discover, purchase and enjoy various content on the ATIV S Neo. For example, the Music+Video hub takes care of all your music and video, and provides access to the music store. Meanwhile, the Photos app will not only hold your photos, but will also provide updates about new image uploads by your friends in social networks. Of course, the phone's sizable 4.8" screen is just perfect for multimedia consumption.
Expectations
The
Samsung ATIV S Neo
does stand a chance as part of Sprint's line-up, considering there are no Nokia Lumia devices there, as those provide numerous advantages over a 'cleaner' Windows Phone handset like the ATIV S Neo. Meanwhile, the
HTC 8XT
is more of a mid-range product so it won't necessarily compete with the S Neo.
For now, the ATIV S Neo seems like a solid WP8 offering that's specifically suitable for multimedia thanks to its large screen. It won't really blow anyone away, but will do well at filling the gap in Sprint's smartphone portfolio. If you're a Sprint user who's looking to jump on the Windows Phone train, this might be your chance, though it'd be best if you wait for our ATIV S Neo Review, as that's where we'll be able to give our definitive opinion about the handset.
Samsung ATIV S Neo Video Preview: