RIM BlackBerry Curve 8900 Review
BlackBerry Curve 8900
Performance:
device
but just as importantly performs well as a
phone
. Like the
8350i
we thought the
speaker
sounded recessed within the device leading to a very hollow. We still could hear them just fine, but voice quality wasn't top notch. Callers said we sounded "quite good" and were impressed with the clarity. We did experience a few dropped calls during testing, but we have a feeling that this has as much to do with
T-Mobile
than it does with RIM. Battery life is rated at 5.5 hours of talk time, but as usual RIM has underrated their product. In our testing we fell just short of 8.5 hours, which is as respectable as it gets.
Conclusion:
The 8900 is a worthy successor to the wildly successful
8300
. It combines all of the features we loved the first time around with a better form factor and increased specs. The
display
is the on par with the
Storm
as the best we've ever seen from RIM, and though the keyboard is a bit small the overall feel is also RIM's best effort. The 4.6 OS is shiny and polished, though with Palm's recent Pre announcement we feel RIM is about due for a drastic change that goes beyond cosmetics. It doesn't detract from the Curve's performance too much though, and all in all we love what we see.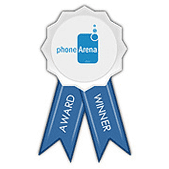 Pros
Near perfect feel
Best in class high-resolution display
Quick, polished, bug-free OS
Greatly improved camera performance over the Storm
Solid phone performance, including amazing battery life
Cons
Keyboard may be a bit too small for larger fingers
The OS may be bug-free, but it's far from perfect
OS:
BlackBerry
view full specs
Display
2.4 inches, 480 x 360 pixels (246 ppi) TFT
Camera
3.2 megapixels
Hardware

512 MHz


Size
4.29 x 2.36 x 0.53 inches
(109 x 60 x 13.5 mm)
3.87 oz (110 g)
Battery
1400 mAh, 5.5 hours talk time