Pantech Burst Review
11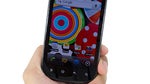 Camera:
Sadly, you can't win them all, as we know all too well. Specifically, the smartphone's 5-megapixel auto-focus camera fails to capture any reasonable looking photos, but even more annoying is the lengthy time it requires to snap a shot. Previewing the results, its details are profoundly soft in tone, but for some reason, it constantly exhibits a prominent greenish hue with its color reproduction.
Shots
taken in low lighting tend to look very grainy, though, we're appalled by the very weak LED flash that fails to even illuminate subjects that are 3 feet away.
Sadly, it doesn't get any better in the
video recording department
seeing its 720p videos are disappointing. Again, we're presented with faint looking details and inaccurate color reproduction, but it's further tarnished by its ridiculously choppy 19 frames per second capture and distorted audio recording. So yeah, it's far from exhibiting the qualities of something deemed as high-definition.
Pantech Burst Sample Video:
Multimedia:
Neither ugly nor attractive looking, the Pantech Burst comes at us with a very conventional looking
music player
, though, we do like the option of browsing through our collection with its swipe friendly carousel. With its single speaker, it emits tones that are pleasant to hear, but there's a slight hint of hollowness with it. Still, it can be remedied by selecting the appropriate equalizer option.
Tantalizing us with its poppy looking colors, our eyes are unable to overlook the sluggish
playback
of our test
video
that's encoded in MPEG-4 1920 x 1080. Well, it's not terrible per se, but highly recognizable enough to capture our attention. Of course, it's not an issue with lower quality videos.