Pantech Burst Review
11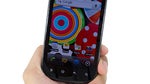 Interface and Functionality:
Although we're not completely sold by Pantech's customized UI that's running on top of
Android 2.3.5 Gingerbread
, mainly because of its overall cartoony looking presentation, some people will obviously take a liking to it. Well, it's actually the same thing we saw on the Pantech Pocket, which borrows some of the elements found with HTC Sense – like its useful lockscreen that provides quick access to certain apps. Beyond that, it obviously embodies all of the characteristics we love about any Android device with its deep level of personalization, but simply lacks the polish and pizzazz to come away as a memorable experience.
Having been spoiled by devices with gargantuan displays of late, our fingers require some time to adjust to the Pantech Burst's smaller footprint with its
on-screen keyboards
. After establishing our rhythm, we're able to knock out passages of text with good accuracy with the stock Gingerbread and Swype keyboards. Additionally, it boasts a responsive performance to keep up with our peppy rate.
Similar to any other Android smartphone on the market, the
Gmail
experience is naturally a joy since we're given all the depth of features found with the desktop experience – but it's in the palm of our hands! Moreover, setup is a painless process, as it requires only our email address and password for automatic setup.
Hardly a surprise to us, the Burst is preloaded with the usual staple of
AT&T's branded applications
, which consists of AT&T Code Scanner, AT&T FamilyMap, AT&T Navigator, Live TV, and myAT&T. Aside from those carrier branded apps, we're still presented with other
third party apps
that include Amazon Kindle, Facebook, Twitter, Qik Lite, and YPmobile.
Processor and Memory:
Even though it's not something we particularly expect out of a $50 on-contract smartphone, the Pantech Burst continues to impress us with its
1.2GHz dual-core processor
, which blindsides us even more with the immaculate scores it's able to achieve in various benchmark tests. In fact, we're astounded to find it hitting the same marks as the almighty Samsung Galaxy S II with the Quadrant and AnTutu benchmark apps. Aside from the synthetic tests, we're amazed to see it performing admirably with most basic tasks – though, we're irked by the choppiness seen while moving between its app panel screens. Simply, it's the fastest Pantech device we've had the privilege of checking out to date.
Proclaimed to carry 16GB of internal
storage
, it turns out to be 12.33GB out of the box, while 740MB is strictly reserved for apps. Then again, if that's not sufficient, you can always pop in a microSD card into its available slot.
Internet and Connectivity:
No doubt it's the most alluring thing, we're excited to know that this budget handset offers 4G LTE connectivity – though, we're unable to test it our since we're not located in an area with AT&T 4G LTE. Instead, we're simply left to using its HSPA+ connection in our area, which so happens to be sufficient for our needs. Loading up complex web site like ours in no time at all, we're very content with the handset's
web browsing
performance – even more when it runs fine with Flash content present. However, we do experience some levels of choppiness with its navigational controls every now and then, but it's never to the point degrading enough to ruin the experience.
Taking this smartphone abroad isn't a problem considering it's a GSM device, but strangely, we find its HSPA+ download speeds to be slower than other models. Still, it thankfully puts out upload speeds that are similar. Much like its siblings on AT&T's lineup, the Pantech Burst features aGPS, Bluetooth, Wi-Fi, and mobile hotspot functionality.