Palm Pre Review
Palm Pre
Performance:
Callers were pleased with how we sounded on the Pre, rating us 8.5 out of 10. We felt they sounded about the same. On both ends there was no one thing, callers weren't hollow or quiet or anything of the sort, but they just weren't perfect. Still, the Pre grades out well above average on the call quality scale. Another cool feature of the Pre is simultaneous voice and data...with a catch. You'll have to be connected to Wi-Fi, but if so you'll be able to browse the web and IM while on a call.
Many have complained of poor battery life so far, but with a phone that advertises multi-tasking so heavily we are not surprised. As with any smartphone, the more you are doing the worse your battery life will be. Palm sent us some battery tips (such as the Wi-Fi tidbit we gave you earlier) which includes not keeping your IM account signed in all the time, since that requires a near constant data connection. The rest are fairly self-explanatory, such as low signal strength and higher backlight levels will result in more battery use. In our testing we got through the day just fine, though were definitely low by the end of the day. If we had gone out that night we would have needed to charge the phone.
Conclusion:
The Pre is the best phone we've ever used. That said, it's still not perfect. Apps will bring it closer to perfection, and Palm/Sprint are targeting fall to be able to say "there's an app for that." Quite simply, it's a brilliant phone and we appreciate the detail put into both the hardware and more importantly the software. It at least matches the iPhone, and often trumps it, in just about every aspect. We have of course not yet used the 3G S, but unless Apple has some serious tricks up their sleeve (they don't) the Pre has it by the throat. We cannot stress how much we love this phone, it quite simply gets it and delivers on the experience. Palm, welcome back. We missed you.
Palm Pre Video Review: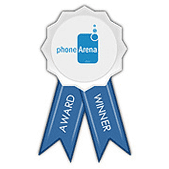 Pros
Um, this thing is sexy.
Beautiful hardware design.
Beautiful software.
Wonderful integration of contacts, calendars and your life with Synergy.
Gorgeous, responsive multi-touch display.
QWERTY
Easy to develop platform.
Cons
Casing could be a bit higher quality.
We'd love to see voice dialing and an onscreen keyboard (T9 please) but this could come.
OS:
webOS
view full specs
Display
3.1 inches, 320 x 480 pixels (186 ppi) TFT
Camera
3 megapixels
Hardware

Single core, ARM Cortex-A8 processor


Size
3.96 x 2.34 x 0.67 inches
(100.5 x 59.5 x 16.9 mm)
4.76 oz (135 g)
Battery
1150 mAh, 5 hours talk time