OnePlus 5 Review
Camera
The OnePlus 5 camera is fine, but not quite a home run. It's impressively fast both to start and focus, but images turn out with a lot less detail than on the 3T. New 'Portrait mode' is a good start.
The
OnePlus 5
comes with a dual rear camera system similar to that of the
iPhone 7 Plus
. You have a main, wide-angle camera and a secondary, 'telephoto' one that the phone uses to artificially blur the background and create DSLR-like portraits.
Curious fact: the OnePlus 5 seems to use the exact same camera system as the Oppo R9s.
The main, wide-angle camera has also changed from the OnePlus 3T: that phone used the Sony IMX298 sensor, while the OnePlus 5 uses the newer IMX398 with an f/1.7 lens on top. Both are 16MP sensors with the same, 1.12-micron size for individual pixels, but the OnePlus 5 also supports Dual
Pixel
auto-focus, the fastest auto-focusing technology around.
The secondary, 'telephoto' f/2.6 lens is built on top of a 20-megapixel camera. OnePlus says it is the highest-res around, but the term 'telephoto' here is really quite misleading. While the main camera has a focal distance of 24mm, the 'telephoto' one only has 36mm, nowhere near standard 'telephoto' lenses that have much higher values. It's also not even 2 times the focal distance of the wide-angle camera.
So how does OnePlus achieve that '2x' zoom effect in the camera app? It is not simply by switching to the 'telephoto' lens (which gives a 1.5x effect), but it is with a combination of using both the secondary lens and some form of digital zoom. Interestingly, 'Portrait mode' with its blurred backgrounds on the OnePlus 5 works differently: it defaults to a 1.5x zoomed view and when there is enough light it uses both rear cameras, but when it's darker it can do just fine by using only the regular, wide-angle camera. Then, it adds some software magic to add the artsy blur effect.. Just like on the
iPhone 7
Plus, the OnePlus 5 uses the ambient light sensor to read light levels and only uses the secondary 'telephoto' lens when there is enough light. If not, it just uses the main sensor and digital zoom.
The camera app on the OnePlus 5 is itself clean and impressively fast.
Here is a tip: double click the lock key to quickly start the camera.
You swipe left and right to go between stills, video and portrait mode, and you tap on your subject and slide up and down to adjust exposure. From the slide-out burger menu, you can view the full set of shooting modes: photo, video, portrait, pro mode, time-lapse, slow
motion
, and panorama. For selfies, you have a beauty mode that is not turned on by default (thanks, OnePlus), but you can manually turn it on and adjust the strength of the effect.
Image Quality
Enough with the intro, what about how images actually turn out?
Put simply, the OnePlus 5 camera is not a home run. It's not bad either by any means, but just not quite there with the very best.
Here are the five major changes the OnePlus 5 camera makes to images in comparison with the 3T:
Noticeably softer focus
A lot of noise appears
Much higher contrast
Brighter
Slightly different, more yellow-ish colors than 3T
The added brightness and contrast makes the OnePlus 5 images at times more impactful and more cheerful than the OnePlus 3T. But look closer and you notice some big issues with image quality. The biggest one is just how soft and lackluster photos turn out when it comes to detail. It's a big step down from even the 3T, especially noticeably in macros and close-up shots. Images are also surprisingly noisy, even on a bright sunny day.
What has improved without a doubt is speed: the new dual focus system is incredibly quick. In low light, the wide f/1.7 aperture helps get more light in and you get very good image quality.
The built-in dual LED flash is strong, but sneaks in a cold, green-ish cast to images that ruins the colors and we'd rather avoid using it.
When it comes to the front camera, we're pleased with it. It captures detailed selfies with very good detail and with sufficient sharpness and dynamics.
OnePlus 5 sample images
Portrait mode, 2x zoom
So… there is a secondary, 36mm lens on the OnePlus 5. It requires plenty of light to work, so don't be surprised if you discover that in other conditions the OnePlus 5 only uses the regular, wide-angle camera for portraits and even 2x zoom. When the secondary camera kicks in, though, it does provide that extra clarity and resolution, which make a noticeable difference.
Having a button to quickly zoom 2 times is neat: it produces a flatter picture with less barrel distortion, and while quality is definitely not top-notch, it's a nice option.
What we were really curios was 'Portrait mode': did it perform as good as the iPhone 7 Plus?
The answer is… depends, sometimes it's better, sometimes it's worse. You can see the results for yourselves below: while the iPhone often captures depressingly dark pictures that are barely usable, the OnePlus managed to actually shoot a more pleasing image. The iPhone did better at the edges, where you can see the artificial blur artifacts the most, but the OnePlus was not too far behind. Overall, it's a toss up, but neither one is perfect.
Video quality
The OnePlus 5 can shoot up to 4K video, which looks very detailed and crisp. While at first the OnePlus 5 lacked proper 4K video stabilization, OxygenOS 4.5.8 adds the feature and brings huge improvement to 4K capture. The OnePlus 5 does not have optical image stabilization (OIS), but the added electronic image stabilization (EIS) does wonders in most conditions and delivers very smooth-looking video. There is a bit of a jitter still noticeable in videos when you shoot handheld while walking, but if you work on a smoother walk, videos turn out nearly perfectly smoothly.
Then, there is dual pixel auto-focus, which shines in video. It's able to acquire and lock the focus instantly, and this results in always-sharp footage.
OnePlus 5 Sample Videos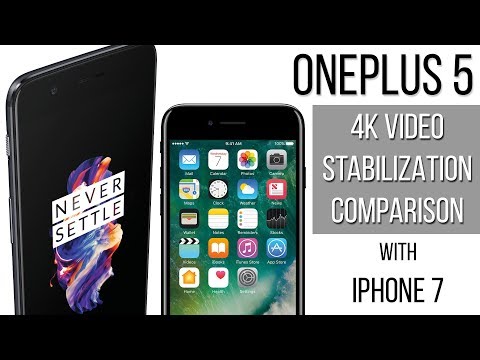 Sound quality
You have a single bottom firing loudspeaker on the OnePlus 5, and it gets very, very loud. It might just be one of the loudest phones we have ever heard. Put a boombox case on a OnePlus 5, fire up music at maximum volume and carry it on your shoulder to get the full effect. Or challenge your friends' phones to a 'who's louder' battle. You will win.
This does not mean that the sound quality is great, though. Just like with most phones, it gets tinny and lacks depth, but we appreciate the ability to go extra loud, if only for those times when you want to share a YouTube video with some friends in a slightly louder venue.
There is an audio jack, so that's nice, but you also have proper Bluetooth 5.0 support with aptX and aptX HD, two standards for high-quality sound when you use
wireless headphones
.