OnePlus 3 Review
Interface and Functionality
Nearly stock Android experience with a few additions and quite a few nice customization options. Other Android phone makers can borrow a few of these.
While we had a lot to criticize about the display of the
OnePlus 3
, the clean interface and fast performance of the phone left us impressed.
There are some key additions here: customization options are absolutely amazing on the OnePlus 3. You can set quick shortcuts to open particular actions when you double press or long press the home, recents and back button (go into Settings > Buttons for that). For instance, we've now set our OnePlus 3 to quickly launch the camera when you double tap on the Home button, and open Voice Search when you long press the home button. This is a level of customization that we would love to see on other Android phones.
The OnePlus 3 is also encrypted by default, which is nice.
You can also use and set gestures, so that a double tap can wake the phone, for instance. You have to manually enable these. To do this, go into Settings > Gestures > enable Double tap to wake. You need to have gestures enabled, in order to allow custom shortcuts like waving your hand over the screen to take a look at the time, for instance.
There is also the Dark mode (go into Settings > Customizations to enable it). It turns all the backgrounds in settings and the app drawer dark, which is easier on the eyes at night, but also helps save battery life.
Processor, Performance and Memory
All-out Snapdragon 820 guarantees solid, smooth performance throughout.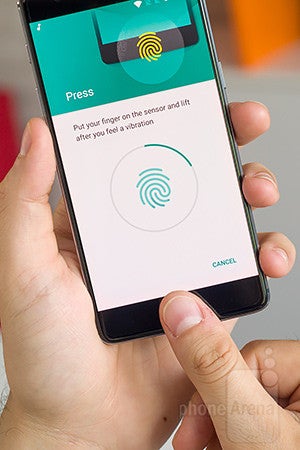 Part of OnePlus' reputation is that the company manages to build phones with the most powerful system chip available on the market and sell them at very low prices. It did it once again with the OnePlus 3: the phone has the top-of-the-line Snapdragon 820 system chip, and it performs admirably. Apps load very quickly, navigating around the menus is a breeze, and the phone just feels fast.
Technically, the Snapdragon 820 is a quad-core chip with custom Qualcomm Kryo cores (not your off-the-shelf Cortex A series) that perform very well in terms of single-core power, but also in multi-core applications.
Then, there is the 6GB of RAM situation. This has a lot to do with marketing: having the first mass-market phone with 6 gigs of RAM gives it a lot of publicity, but in real-life, OnePlus is killing apps just as it would do with its OnePlus 2 that had 4GB RAM. We do hope that RAM management is improved in a future software update, but so far, the benefit of 6GB of RAM is limited by OnePlus' own software.
Gamers should also know that this phone comes with the Adreno 530 GPU, which is one of the fastest graphics solutions on mobile, and it performs on par with other flagships. Yes, this means that it should be able to handle even the most demanding games with a consistent frame-rate, and also be future-proof. Take a look at the benchmark scores to see how it fares against the competition.
We're also tremendously happy to see a plentiful 64GB of storage as the base and only option for the OnePlus 3. While Apple is still insulting users with 16GB of storage for base models on the twice as expensive
iPhone 6s Plus
, and Samsung offers good-but-not-great 32GB of storage on the S7 series, the OnePlus 3 outdoes them all.
With 4K video on board, an ever-growing collection of music and a ton of heavy Live/
Motion
photo solutions on other phones, it feels like we rely on our phones more and more, and insufficient storage is one area that can often ruin the experience. The OnePlus 3 not only has a lot of storage, but it uses the fast UFS 2.0 storage that allows for apps to install and start much faster.
Unfortunately, there is no support for expandable storage. Rather than using a hybrid tray, the OnePlus 3 is a dual nano SIM phone and has no microSD card slot. For those few people that need more than 64 gigs, this would be a problem.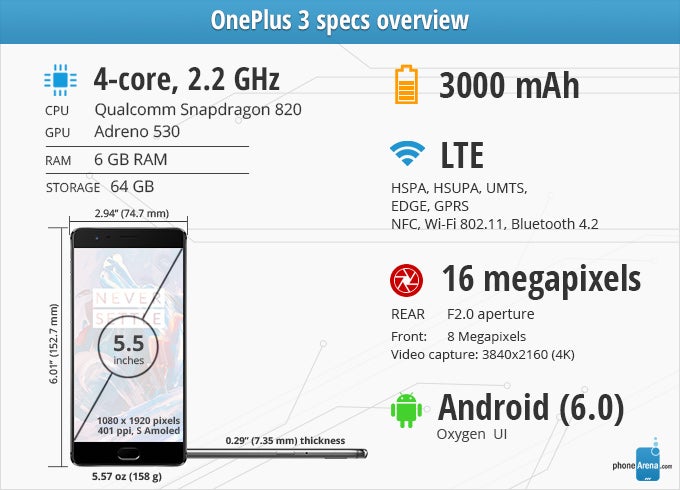 Internet and Connectivity
4G LTE works on AT&T and T-Mobile in the United States, but not on Verizon and Sprint. The European version works well across the Old continent.
Unlike many other Android phones, OnePlus does not have such a huge problem with app duplicates. Yes, there are two gallery apps pre-installed (Google Photos and OnePlus' own gallery app), but - blissfully - there is one browser (Google Chrome), one calendar (Google Calendar), and one mail app (Gmail).
What about 4G LTE connectivity? The OnePlus 3 comes in three models: one aimed at the North American market in general, another one for Europe, and a third one for the Chinese market. In North America, the OnePlus 3 will support bands 1, 2, 4, 5, 7, 8, 12, and 17. This means that OnePlus 3 will work on AT&T and T-Mobile, as well as on their related MVNOs in the United States, but does not support 4G LTE band 13, the main band for Verizon Wireless, so you won't be able to use the LTE network with it. Sprint 4G LTE bands are also not supported. The European version of the phone supports all major carriers in the Old Continent, and it also supports the crucial band 20, which is good news. There is also a dedicated model for China with support for its specific TDD-LTE bands 38-41.
In terms of other connectivity options, you also have Wi-Fi b/g/n, Bluetooth 4.1 and NFC support.