Nokia Lumia 920 vs Apple iPhone 5
99+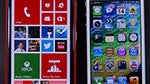 Interface and functionality
Both iOS and Windows Phone are more restricted compared to Android, but WP8 introduced resizable homescreen tiles, mass storage mode and 3rd party apps lockscreen info display, upping the ante against iOS.
There is still no unified notification center there, but the contacts integration with Facebook, Twitter and so on in the People hub is second to none, and one of the best WP features. Windows Phone does many things differently than iOS (or Android), so there is a somewhat steeper learning curve. You have to slide your finger down from the top of the screen to display the carrier signal and Wi-Fi networks strength, which are not displayed at all times like with iOS, or have to hold the arrow in the music player to fast forward or back instead of sliding the progress bar, as you are used to. Once you've mastered the kinks, it proves to be a rather fresh and colorful UI approach, which, with the uncluttered displays and minimalistic fonts is pretty unobtrusive.
Where iOS and Windows Phone 8 are very much alike is with the heavily managed approach to
multitasking
. You can see a list of recently run apps by holding the back key in WP8 to see their screenshots, or double-tap the home key of the iPhone 5 to see the same list in icon form, but the phones quickly suspend them in memory then outright kill, allocating resources according to the workload, so you don't have to watch the list, manually jinx apps and so on. The downside is that you can't just switch back to that calculator you used three days ago, still languishing in memory with your last equation, like with Android, for instance.
The app situation
is in favor of iOS, whereas you often find that some services you are used to that don't yet have dedicated apps for Windows Phone. Nokia tries to compensate with exclusive apps like its free offline voice-guided navigation, which is superior to what you'd find on the iPhone, or the Mix Radio option, which streams Nokia Music tunes for free to your handset.
The iPhone strikes back with its Siri natural language assistant, whereas the TellMe-based voice recognition of Windows Phone 8 is more limited in nature.
Processor and memory
A
1.5GHz dual-core Snapdragon S4
is what we find in the
Lumia 920
, and a
1.3 GHz dual-core Apple A6
in the
iPhone 5
. Apple's processor is manually designed by Cupertino, whereas Nokia uses off-the-shelf Qualcomm SoC, but both devices are very, very fast, having no trouble navigating their respective interfaces, or running any 3rd party app or game out there.
There is 1 GB of
RAM
in the phones, and, as we mentioned before, they manage the multitasking heavily, so you never feel running out of memory.
The basic internal
storage
amount is 16 GB for the iPhone 5, and 32 GB for the Lumia 920, but you can get iPhones with up to 64 GB of internal memory, though it won't be cheap.
Browser and connectivity
The
browsers
are very snappy and fluid, with Safari throwing in extras like the Reader mode which strips the article from fluff and only presents easy to perceive text. Internet Explorer on the Lumia 920, while very fast, ran into problems with some sites that were heavy in JavaScript, and we couldn't set flight dates on a travel website, for example.
Both handsets sport LTE radios, combined with 42.2 Mbps HSPA+ basebands, as well as Wi-Fi, Bluetooth (4.0 in the case of the iPhone), A-GPS and DLNA. The Lumia 920 throws in NFC support, too.
Nokia's phone has a pentaband LTE radio that is attuned to more widely used frequencies in Europe, for instance, than the iPhone 5. Apple apparently wanted to support those frequencies there,
which coincide with the version for Asia and Australia
, and as a result its LTE fires up on just DT in Germany and EE in the UK, as well as a few smaller carriers.
The Lumia 920, on the other hand, can support more than 20 LTE networks in Europe. Asia uses 1,800 MHz and 2,600 MHz in places like Singapore, Hong Kong and South Korea. Japan and the US share the 700 MHz or 2,100 MHz frequency range, while in Europe they utilize 1,800 MHz or 2,600 MHz. Some carriers also run LTE on everything in-between, such as 800 MHz and 850 MHz, but just 25% of Europe's LTE operates on the iPhone 5's 1, 800 MHz, with the rest deployed or about to be deployed at 800 MHz and 2, 600 MHz, both of which the Lumia 920 supports.
As for the wired connectivity, we have a bone stock microUSB port on Nokia's phone just for charging and syncing, while the iPhone 5 offers its Lightning adapter, which allows you to hook it up to a TV via the respective HDMI adapter.