Nokia Lumia 900 vs HTC Titan II
31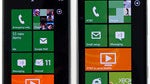 Camera:
Finally, we have something concrete that differentiates these two when it comes to performance. As we stare at the exact
shots
captured by the Nokia Lumia 900's 8-megapixel camera and HTC Titan II's 16-megapixel snapper, we have to give the slight advantage to the latter. To tell you the truth, it's almost indistinguishable to the eye as to which one is the superior with outdoor shots, as they produce the same average details and neutral color tones. However, the HTC Titan II handles low lighting and macro shots better – well, that's because the Lumia 900's low lighting shots tend to be noisier looking. Additionally, when you throw in the wealth of shooting modes and options available with the HTC Titan II, it's undeniably the more photo-centric device.
In a surprising twist, we find the Nokia Lumia 900's 720p
video recording
to be a bit more pleasing to the eye than its rival. Despite noticing a distinctive underexposed appearance with the Nokia Lumia 900's results, we find more distractions with the HTC Titan II, as it exhibits softer details and some light evidence of artifacting when panning.
Nokia Lumia 900 Sample Video:
HTC Titan II Sample Video:
Multimedia:
Hardly a surprise, we're greeted with the
Zune experience
when it comes to playing music – so yeah, they boast the same level of presentation. However, the internal speaker of the HTC Titan II is more pleasing to the ear, since the Nokia Lumia 900 sounds rather strained at the loudest volume setting.
Aside from the size disparity, there's nothing different with the
video watching experience
. More than able to play the same videos, it's really a tossup as to which one is the more pleasing to use for watching videos. Certainly, we appreciate the spaciousness of the HTC Titan II, but the Nokia Lumia 900 has the iridescent color production to capture our attention.