Nokia Lumia 1520 vs Nokia Lumia 1020
Camera
Without question, they're known highly for their photo snapping capabilities. Let's first talk about what's in their gear. For the 1520, it's packing a 20-megapixel PureView camera, which features a dual-LED flash, Zeiss lens, and an aperture of f2.4. In comparison, the 1020 continues to stand out for its intimidating set of hardware – a monstrous 41-megapixel PureView camera featuring a combination LED/Xenon flash, f2.2 aperture, and the larger sensor size. Fortunately, they both tack on optical image stabilization, backside illuminated sensors, and 1080p video recording at 24, 25, and 30 FPS.It's worth mentioning that their camera apps are identical to one another – an interface that's rich with manual controls for white balance, shutter speed, ISO, exposure, and focus. Best of all, the layout of their camera UIs mimic those that grace most digital cameras nowadays. Even though it looks as though they're lacking in the shooting mode departments, we can resort to either using the wealth of Nokia branded photo snapping apps out there, or the handful of "lenses."
Peering meticulously over their shots, we'll admit it's a close race with their lower-resolution 5-megapixel samples, seeing that the only noticeable difference is the subtle saturation in the 1020's shots. Once we pay attention to their higher-resolution samples, the 19-megapixel ones from the 1520 and 39-megapixel snapshots from the 1020, there's no mistaking the detail superiority of the 1020. The 1020 is able to catch more finer details that retain their crisp visuals – whereas, it looks more toned down and softer with the 1520. Don't get us wrong, they both snap some amazing photos, but it's just the detail might of the 1020 that stands out.
Under lower lighting situations, the 1020's shots tend to be brighter – albeit, it comes at the expense of casting an inaccurate white balance. On the flip side, the 1520's color reproduction is more accurate, but its shots are a smidgen darker in tone than its sibling, which could simply be due to nothing more than a shorter exposure time with the automatic setting. And finally, the combination LED/Xenon flash of the 1020 exudes the more potent flash over the dual-LED one in the 1520.
Sample Images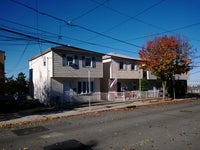 Indeed, it's a close race in the still image quality department, where it's merely the finer detail capture of the 1020 that's most paramount, but when it comes to capture 1080p videos, it's an easy win for the 1020. Out of everything, it's just the stronger details and crisp visuals put out by the 1020 that undoubtedly catches our attention the most. It's significantly more pleasing looking when compared to the 1520's results, which tends to be more subdued with its details – giving it an overall "softer" look.
Multimedia
Accessing either the stock Windows Phone 8 music player, or the Nokia Music app, there's nothing different with either device when it comes to playing music. Well, the audio quality is slightly different. Holding the two in our hands, the speaker in the 1020 sounds more potent, mainly because the speaker of the 1520 is facing the rear, which in turn loses some of its punch in the process. However, when they're laid flat, the 1520's volume output is able to match the 1020's thanks to the amplified output from its rear speaker bouncing back audio from the ground surface.
Both are equipped at handling playing all sorts of high-definition videos, but when it comes to watching them, having the larger screen proves to be more ideal for the situation. Bearing that in mind, it's no surprise why we gravitate towards the 1520 more – especially when its screen is so darn big in comparison to the 1020.