Nokia 7900 Prism Review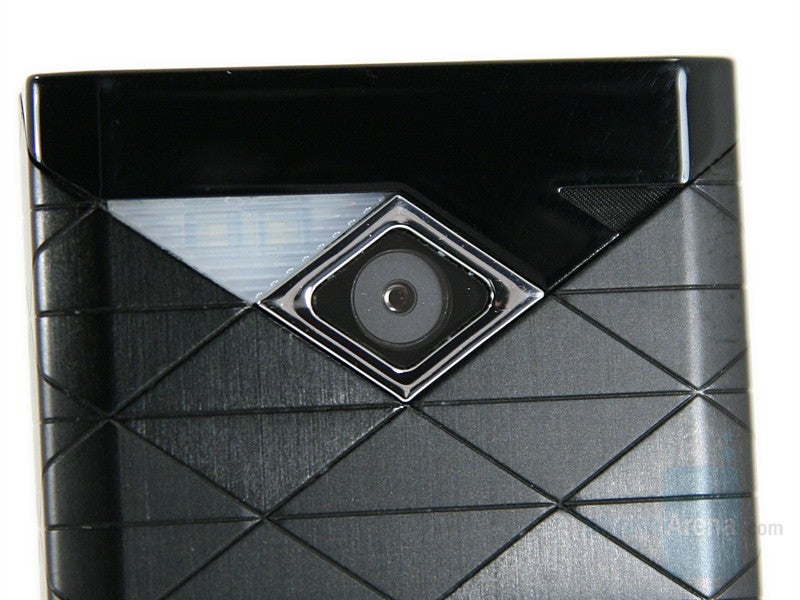 Camera:
Nokia 7900 Prism is not meant to be a multimedia phone, but it is not deprived of such settings. It is equipped with 2 mega pixel camera with 8x digital zoom. Activation time is about 2 – 3 seconds, which is fast indeed; for a comparison, Nokia 7500 Prism featured a delay of 5 seconds. The camera interface is in a portrait orientation and the display shows information for the number of pictures you can take before the memory is exhausted, the resolution and the quality of the pictures, as well as the regime – picture or video shooting.
You can choose from among a total of 7 different shooting resolutions varying from 160x120 to 1600x1200, as well as from 3 image quality options: basic, normal and high. You can also make pictures with specific effects like false colors, grayscale, sepia, negative and solarise. When you are taking pictures in the dark place or in the night you can use the night mode or the integrated LED flash.
Photo quality is satisfactory at daylight; however, one cannot fail to notice that colors are too bright, which may sometimes render the shots entirely unrealistic and quite different from the ones in reality. Details are good for a phone, whose main asset is not the camera; there is some "noise", though, to be clearly seen in the photos' corners.
Those, taken inside, feature quite a lot of "noise", with details blurred and unclear. In case there is no light whatsoever apart that of the flash to rely on, quality shall be determined as disheartening.
At some of the photos we noticed a queer defect, manifesting itself in the form of an orange spot in the middle of the picture.
Video-shooting fans will remain quite disappointed by the fact that theunit supports a maximum video clip resolution of 176 x 144 pixels,which is too low for anything but MMS.
Multimedia:
The Prism supports MP3/AAC/eAAC+/WMA formats for reproducing of audio.The music files, can be arranged by artist, album and genre, as well as to add and manage playlists.
While playing music the display shows name of the song , album and album cover art if there is one. You have 2 themes at your disposal here to change the interface of the player. Also, if you want you can play with the settings of the equalizer and the stereo widening.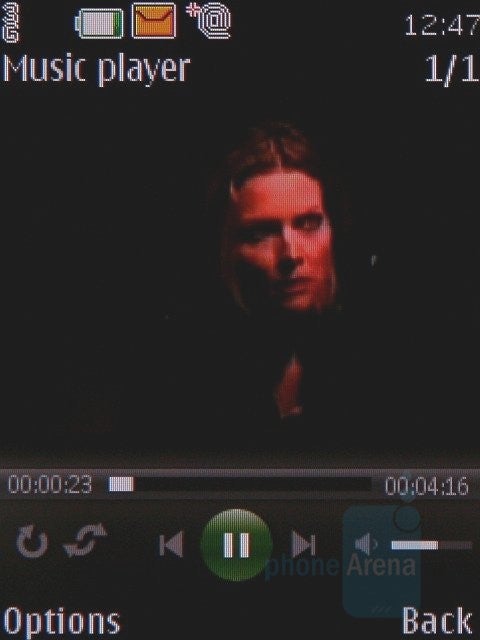 Video playback
The phone does not pretend to have the options of the full functional music player, but nevertheless you can listen to stereo by the headphones in the set or by wireless, by the use of the Bluetooth A2DP profile.
According to the specifications, Nokia 7900 Prism supports the following formats and codecs: 3GPP (H.263), H.264/AVC, MPEG-4. During our tests where we used standard encoded H.263 and H.264, we established that those with QVGA resolution were reproduced with sound only and no picture at all, whereas playing the ones with QCIF was just normal.
Software:
As most of the phones of the Series 40, Nokia 7900 Prism comes with several preloaded applications: Download, Installer, Opera Mini, Search, World Clock and Sensor. Nokia has taken care that you are not left without an entertainment in your free time, as for this purpose four games have been loaded: Golf Tour, Music Guess, Snake III, and Sudoku. The phone supports Java MIDP 2.0, so that you can install all kinds of additional applications at your need and discretion.