Motorola RAZR V3 Special Edition - Black review
1
Performance:

Utilizing quad band, this phone delivers full bar reception in areas of my home and office where previous models reception would get shaky. Perfect for users who regularly travel and would like to take their unlocked phone for use in other countries. The speakerphone capability is just as clear with a conveniently loud speaker that can transmit mps3 ringers and voice crystal clear. You may find yourself preferring the speakerphone as its volume is louder than the earpiece and its clarity is comparable in quieter areas. You will also find yourself loving this great speaker clarity when playing mp3s.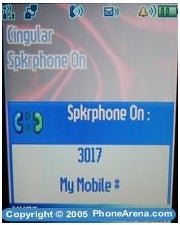 Calls are loud and clear using powerful speakerphone
The browser operates on the GPRS network and not the EDGE network. The GPRS runs at a lower speed and is an average feature like much of the others on this device.
The RAZR comes with a 750 mAh Li-on battery with a talk time of 3 hours and standby time of 200 hours. It lives up to these numbers which is good to know for such a small yet powerful device. Just remember to turn off the Bluetooth link when not in use at it is a strong battery drainer along with the Java apps. Using the USB cable to sync with your PC, this phone also charges at the same time. A convenient feature to keep your phone charged while in the office.
Conclusion:

Overall, this phone is still a buy if you are looking for a real sleek looking phone now that prices are dropping. It can satisfy all of the average user's needs and I would describe it as "beautiful and basic." Ultimately the selling point is clearly its size and "special edition" color. The resolution on both of the screens is great with a quick refresh rate. Capable of video playback and recording along with mp3 ring tones, it appeals to fashion users. For those looking for a great camera phone packed with features, this may not satisfy your thirst as the ultimate device. Keep your eyes peeled for Motorola's future follow up to the V3, the "V3x." Also in the same fashion line as the V3 is the V8, a thin candy bar version of this popular model and the V6 (or the "PEBL"), reminiscent of a smooth, sleek skipping stone that is sure to turn heads.
If you want to make an impression, this phone is for you. The RAZR sports Bluetooth capabilities, e-mail support, speakerphone and the ability to be used all around the globe.

---
As always, if you are interested in becoming part of our review team, drop me an email at: kidoborg@phonearena.com