Motorola RAZR V3 Special Edition - Black review
1
The RAZR packs a punch visually, but let's take a look at what's under the hood. The standard applications such as phonebook, browser and office tools are reminiscent (see: no noteworthy changes) as previous V series phones. Simply put, Motorola has placed more time in physical design on this product than application scalability. Kudos for providing a 1000 contact capacity, but aside from that the phonebook is weaker in comparison to other high end phones.
With 24 voice polyphone feel free to put some mp3s on this device and feel comfortable to use it as a ringer or alarm without losing quality. The external speaker for ringtones and speakerphone is located at the bulge on the bottom of the phone by the mouthpiece. It is surprisingly loud and capable for use at group discussions and mp3 listening. However, the speakerphone cannot be used while the phone is closed. In fact, the only application that does not abruptly halt when the phone is closed is the sub par camera.
For all the hype this phone has received, the 4X VGA zoom camera is nothing to get excited about. Unless you are in mid-day perfect lighting conditions or in a room with large open windows, your pictures will not show the detail you deserve. With 2+ mega pixel phones on the market, maybe at this stage in the RAZR products lifecycle it may be worth it to look elsewhere for a complete package if you are looking beyond style points. Also note for the average user, using the zoom function will make most images hard to distinguish. The most notable change in the firmware update is the ability to record video. Previous versions only permitted the playback of clips, but now we can record our own. As an add-on to the phones features, the video quality is really not worth your time.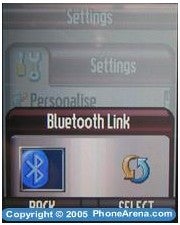 Bluetooth
Motorola in general provides good Bluetooth device support and paired with the HS820 the RAZR performed clear and consistent. The USB cable provided with the Mobile Phone Tools software provides a means to sync the device with your PC while charging at the same time. The Phone Tools software is rather simple to master allowing you to transfer images, mp3s and now video to your phone and vice versa. The 3GP video recording and playback format is compatible with QuickTime Player. Mobile Phone Tools even offers the option to create your own mp3 clip from longer full length mp3s to be used as ringtones; a very fun and customizable feature.
To complement the Bluetooth capability, the RAZR also support voice dialing and voice memo recording. Both functions are always a good addition to any phone to make calling as easy and quick as possible.
Rundown of the main application list…
Phonebook – The phonebook is reminiscent of previous Vxx series Motorola devices. It is not a routine and easy interface to add extras such as addresses and multiple numbers per contact. To do this you have to edit your contacts and add extra fields on as needed basis. The v3 has gotten some criticism for its phonebook and it is not because it lacks commonly needed features, but because it is difficult to navigate and may require direction from the manual for initial use.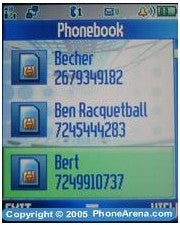 Phonebook
Recent Calls
- The recent calls feature is limited to 10 of each instance: received and dialed with a check mark next to each to designate a successful call. This is something I wish Motorola would work on increasing as I can't tell you how many times I was trying to go through calls from previous days to see the last time I talked to one of my contacts. For future models we can hope to expect separate fields for missed, received, dialed (connected) and dialed (no answer).
Recent Calls
Messages
– The message option is fairly capable for the average user. With an option on the keypad to directly access the message centre it has capabilities to send/receive SMS, MMS and email support. Messaging and email utilizes iTAP text input method. The iTAP system requires only one key touch to select a letter, and also proposes the next word you intend to add to your message or note. With a broad English dictionary, after some practice this method proves to be more of a typing aid than T9 input.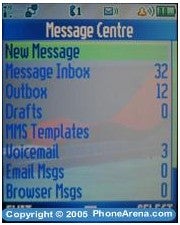 Message Centre
Office Tools
– Consists of a SIM applications shortcut, a basic calculator and a datebook which is a decent calendar that syncs with your PC via the mobile phone tools software. Other notables are the voice records function to record audio and a basic alarm. Using the word basic for some of these options may be generous in some user's opinions. The office tools provided are remedial and do not compete with the options of other phones at this price. Long story short, you may never use any of these applications out of pure frustration with their limited capabilities.
Games & Apps – Basic Java games come prepackaged with the device and include: Billiards, Golf and Skipping Stones. In the same menu is a slide show feature which reminds you of the Windows screensaver you see on many computers which randomly transitions through the user's assortment of photos. The Java takes a surprisingly long time to load in relation to how quickly most other screens and options refresh. Take note of the coffee cup at the top of your screen when not using Java as that indicates an application is still running in the background (such as quickly leaving an in progress game to answer a call) and at the same time – draining your battery.
Web Access - The internet browser available operates on WAP 2.0. Unfortunately the RAZR does not take advantage of the higher speed EDGE network. It runs on GPRS, while not archaic, it is still missing some horsepower.
Multimedia – Provides the ability to assign themes to your device to change the look of menus, text and pictures. Also contains a shortcut to launch the camera and most notably now an icon to launch the video recorder. In here is also the option to view all sounds on the device to assign to certain actions and the moto mixer to create your own sounds.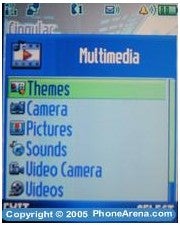 Multimedia
IM
– Your IM client can be setup and text is input easily using iTAP. To complete this operation you will need your GPRS APN. This information is readily available from all wireless carriers to get you up and running.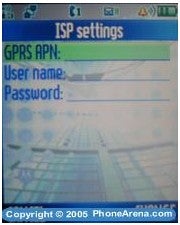 IM Settings
Settings
– The final menu on the main application list is the settings menu which provides the options to personalize and configure connection options. You can also set your network options and most importantly on this list the Bluetooth device support is located in the "connection" tab. A good feature is that the Bluetooth pairs readily and easily with most devices.
Overall, the features are average and simple for the most part. After getting a feel for the RAZR you will begin to notice why the catchy commercials are all about the innovative physical design, because ultimately that is what you are buying.