Motorola Moto G 2014 vs Moto G 2013
13
Camera
You'd think that the difference is enough to give more detail to the new Moto G's camera, but that's not necessarily the case. On paper, one would expect that kind of result, but the older camera gear is still able to snag some pretty looking photos. Interestingly, it's the warmer color reproduction of the new Moto G that makes us prefer its quality more – as the older model casts cooler colors. Heck, it pretty much translates to all shooting conditions.
Sample images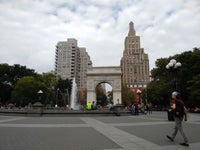 Likewise, we prefer the new Moto G's 720p video recording quality over its predecessor, mainly because of the softer detail quality and subdued audio recording of the 2013 Moto G.
Multimedia
Boasting stock Android experiences, there's no surprise that the two resort to the Google Play Music app as the default music player out of the box. Armed with only a single rear firing speaker, one that churns out 87 dB of audio, it easily eclipses the newer model's dual front-firing speaker's output of 74.2 dB. Naturally, it's one of those freak things that catch us by surprise.
Videos play nicely on both devices, but the larger sized display of the new Moto G undoubtedly makes it the more ideal candidate for the experience. It's not to say that it's bad with the original handset, but we just simply prefer a larger panel for the experience.