Motorola DROID 3 vs HTC ThunderBolt
49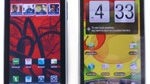 Camera and Multimedia:
Who knows what's going on with the Motorola's 8-megapixel auto-focus camera, but we're just absolutely terrified by its inaccurate looking results – hence why the ThunderBolt is the clear winner in this category. Overall, the ThunderBolt is able to capture better looking
shots
mainly because of its bright and cheery looking color production. As much as we're downright dismayed by the inaccurate colors with the DROID 3's results, we find it actually producing sharper looking details between the two. Strangely, the bluish color tones with the DROID 3 are less evident with indoor shots and are most noticeable with outdoor scenery. Adding the to the ThunderBolt's capacity, it's far better able to focus in on subjects in complete dark settings – and it helps that its dual-LED flash is more potent than the DROID 3's single one.
Subsequently more of the same results, we're sticking to choosing the HTC ThunderBolt when it comes to high-definition
video capture
– even though it's full 1080p with the DROID 3 versus 720p with its rival. Again, we face seeing yet the same exact drab looking colors with the DROID 3, which tends to make the video appear to be almost in black and white. However, we do like its faster 30 frames per second capture rate – albeit, the 28 fps rate of the ThunderBolt isn't too shabby. Even though we find some evidence of artifacting with the ThunderBolt when panning fast, and some noise in low lighting, its overall appearance is seemingly much better looking than anything that the DROID 3 has to offer.
Motorola DROID 3 Sample Video 1:
HTC ThunderBolt Sample Video 1:
Motorola DROID 3 Sample Video 2:
HTC ThunderBolt Sample Video 2:
Motorola DROID 3 Indoor Sample Video:
HTC ThunderBolt Indoor Sample Video:
At first, it might appear that their respective
gallery apps
utilize very similar conventional presentations, but after checking them out more closely, we definitely like what Motorola is doing. For starters, there are more 3D effects in use when browsing through content. Additionally, it's even able to aggregate multimedia content from our Facebook account – like being able to see recent photos taken by friends or browsing through specific Facebook photo albums. And of course, the fun doesn't end there because the DROID 3's gallery app has more depth with its editing functions – such as being able to adjust color and brightness directly on the handset. It's not like the HTC ThunderBolt's Gallery app is being blown out of the water, but at least it offers some of the base essentials to get by most people.
Running their respective
music players
, their presentations mimic one another as they display things like the album cover and on-screen controls as a song is being played. Also the same, they both employ these nice looking 3D carousels when browsing through albums – though, it's only enabled in landscape with the DROID 3. Looking past their appearance and down to audio quality, we're once again greeted with a similar experience. Fortunately, audio output with the two are more than pleasant to the ear when set to their loudest without any hint of crackling or strain.
Thanks primarily to its ridiculously fast dual-core processor, the Motorola DROID 3 is more than equipped in
playing
full 1080p
videos
. Although it's not as mighty with its processor, the HTC ThunderBolt is still able to play 720p videos without much fluff. In all honestly, there is still plenty of rich visuals that will more than engulf anyone – while retaining a smooth movement with their playback. Of course, the kickstand on the ThunderBolt adds the convenience of a hands-free experience, but you can prop the DROID 3 upright as well on its side to get something similar.
Storage
isn't a problem with either handset, but it's worth noting that the ThunderBolt is packed with 32GB of internal storage versus the 16GB available with the DROID 3. Still, you can increase their capacity by an additional 32GB seeing that they have unoccupied microSD card slots.
Software:
There isn't anything terribly different between their software offerings, especially when they're both Android smartphones, so you can expect apps like Google Maps and YouTube to offer the same experience. However, the DROID 3 is packed with a lot more
third-party applications
out of the box, but the only notable ones include the games N.O.V.A and Lets Golf 2. Additionally, we find enterprise/business centric apps like Citrix, GoToMeeting, and MOTOPRINT on board with the DROID 3. Obviously, the Android Market is the one-stop shop area for all your apps needs – so there's nothing different with their offerings.