Moto Z2 Force Review
Camera
A new dual camera feels like a step in the right direction, but this one's still rough around the edges
Maybe the single-biggest unknown when we're anticipating the arrival of a new phone is what the manufacturer intends to give us in terms of camera hardware. Processor, screen details – other components are far easier to predict, but when it comes to a camera, almost anything goes.
Last year, the Moto Z arrived with a 13MP main camera, while the Z Force pushed that up to 21MP. Both offered attractive features like optical stabilization, and both lenses had f/1.8 apertures to let in lots of light. With the Z2 Force, we could have gotten more of the same (not unlike Samsung did with its 2017 flagship), but instead we see Motorola going in another direction entirely, giving this year's phone a dual-camera package.
That means a pair of 12MP sensors (each with larger pixels than those on either of last year's phones), one full-color and one black-and-white. That sort of arrangement is similar to ones we've seen before, and while it feels a little less versatile than two full-color cameras with different focal lengths, we've also seen such systems deliver some impressive shots. Do the cameras on the Moto Z2 Force hold up? Or are we going to wish Motorola kept things simple – while maybe keeping extras like OIS? Let's take a look.
Image quality
Motorola's previous generation of Moto Z flagships performed quite strongly when it came to photography, and while we weren't about to put either phone's camera on our best-of lists for 2016, we couldn't ignore their effortless ability to produce decently high-quality images.
Even without optical stabilization, we feel safe saying that the Moto Z2 Force doesn't do their legacy a disservice. Pictures taken with the phone exhibit well-balanced exposures, engaging, life-like colors, and sharp focus. Low-light performance is pretty satisfying, presumably thanks to that extra monochrome sensor and its ability to capture additional brightness data.
Our bests pics seemed to come from the use of the phone's auto-HDR mode, which really excelled at landscapes, capturing both ground subjects and cloud-speckled skies with aplomb. Our only issue there is the limited availability of the feature, and specifically that you can't tap into HDR when shooting in B&W. Why, we can't say, but it's one sour note on an otherwise interesting feature.
The dual-camera system also lets the Z2 Force pull off some photographic effects – and top on that list is the standard blur-out-the-background mode. Much like we've seen on other phones pulling this trick, the effect is far from perfect, and you're inevitably going to get both over- and under-shoot of the in-focus clipping.
In addition to those focal tricks, you can also use this system to selectively color your subject, leaving the background B&W, or to simply remove the background entirely. These are neat, but also highlight the imperfect clipping even more so than the selective focus mode.
Moto Z2 Force sample images
Video recording
The Moto Z2 Force may miss out on optical stabilization, but its 12MP cameras do leave plenty of pixels left over for electronic stabilization, and the phone is powerful enough to pull off that trick even when shooting in high-end filming modes like 4K or 1080p @ 60fps – not something we see on a lot of phones that support such recordings.
But while the Z2 Force's video capabilities sound good on paper, in operation we ran into a few hiccups. While stabilization definitely does a lot to smooth-out camera movement, video footage itself is occasionally jerky, especially when shooting in black and white. And the videos we shot tended to feel a lot lower-res than they actually were, with really soft-looking features.
While none of that is great, the audio component of video recording actually works pretty well, and the Z2 Force did a really nice job at making our near-camera narration sound clear and intelligible, even with considerable background noise to contend with.
Moto Z2 Force Sample Videos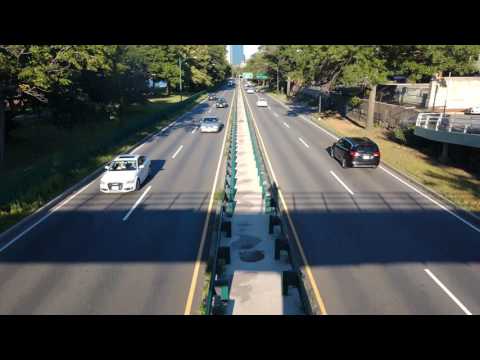 Multimedia
Could reliance on Moto Mods be causing Motorola to neglect the Z2 Force's sound?
As we already touched on, the screen on the Moto Z2 Force has a few good things going for it. Assuming you've managed not to reduce it to a scratched-up mess, it's sharp, adequately bright (at least in auto mode), and capable of generating some saturated, pleasing-to-look-at colors. All you need for a rich multimedia experience is to pair that with some decent sound – but here the Moto Z2 Force comes up a little short.
Like other Moto handsets, this one ends up with a single front-facing speaker – really, the phone's earpiece. That move may help keep the component count down and lend itself to thinner, easier-to-make phones, but it doesn't do a ton to create a really satisfying listening experience. The greatest problem here is a lack of satisfying bass output, just like we ran into with the
Moto Z2 Play
.
The solution may simply be to pair the Z2 Force with a speaker like the JBL SoundBoost 2 Moto Mod, but that's just a bandage on a still-extant issue. And while we do appreciate the appeal of front-firing speakers, if Motorola can't manage to improve sound quality, the company might be better off considering the much more popular bottom-
edge
route.
Of course, we also have to address the headphone situation here – or rather, the lack thereof. Once again, Motorola's Z-series flagships land without support for legacy audio accessories. Yes, there is a USB Type-C adapter included with the phone in its box, but it's still enormously frustrating that the higher-end, thicker (with presumably even more space to fit in a headphone jack) Moto Z2 Force omits the port, while the lower-end, thinner Moto Z2 Play has no problem giving users full headphone support.