Camera
Overflowing with potential, but a hiccup here and there get in the way
Like so many other smartphone manufacturers, Lenovo has seen the writing on the wall when it comes to hammering camera specs down shoppers' throats: raw megapixel count just doesn't matter like it used to (or did it ever?). So instead of the 16MP camera on the G4 Plus, we've got a 12MP component on the G5 Plus.
What benefits do we get to offset that resolution hit? The big one is probably dual-
pixel
autofocus, like we saw on last year's
Galaxy S7
from Samsung. The system promises fast, accurate focus by leveraging all available pixels, rather than a subset like the G4's more traditional phase-detection autofocus.
Also like the GS7, the
Moto G5
Plus's camera picks up a very wide f/1.7 aperture, bringing in copious amounts of light. Around front, the 5MP f/2.2 wide-angle camera sounds just like what we had on the G4, and instead the G5's updates arrive mainly in the form of software: a manual-setting pro mode, as well as a beautification mode.
Image quality
For a camera with so much potential, the images we snapped with the
Moto G5 Plus
turned out a little more inconsistent than we'd like.
The good news is that even the "bad" pics still look largely OK, but more than once we found ourselves let down by slightly out-of-focus pictures, or those with poorly set exposures. We're hopeful that a little software tweaking can right some of those wrongs, especially with this dual-pixel system still so new to Motorola phones, and a more aggressive auto-HDR mode has the potential to improve the exposure situation.
But when things are working well, the G5 Plus produces some very, very satisfying images for a phone in this price range. Colors are true-to-life without being over-saturated, and when the focus does "click" like we want, images are sharp and detailed.
Ultimately, the focus issues really are disappointing, a situation made worse by the extent to which the promotional efforts for the phone have been hyping its fast focus speed, but this is still one of the better smartphone cameras we've used – and that's helped a lot by gesture shortcuts making the camera software so easy to access. A little time tweaking its focus algorithms, and we're hopeful that Lenovo could have a winner here.
Moto G5 Plus sample images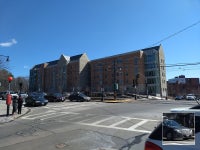 Video recording
Unlike the G4, which topped out at 1080p, this year's Moto G5 Plus finally supports video recording in ultra-HD 4K resolution. That's a nice upgrade, but sadly things are downhill from here.
Without stabilization engaged, video can be distractingly jerky. Luckily, electronic stabilization is available for some filming modes, and it does work well, but tops out at 1080p 30FPS. And while there is a 60FPS 1080p filming mode, we found its output to stutter – both in the viewfinder and on later off-device playback. Things are slightly better in regular 30FPS 1080p and 720p modes, but even there we took issue with some heavy compression delivering noticeable artifacts. Perhaps the bad experience we had with other shooting settings had us a little more tuned-in to looking for problem areas than we would be otherwise, but none of this adds up to a particularly compelling video-recording experience.
Lenovo would be wise to take its megapixels-aren't-everything lesson and apply it to video: 4K is nice, but we'd trade it in a second for better overall video performance.
Multimedia
Front-facing speaker placement shows us how it should be done
The Moto G5 Plus takes the unusual position of offering only a single mono front-facing speaker – and like last year's G4 phones, it's once again the handset's earpiece pulling double duty as the main speaker. But while it may be a little weird, it's also a decision that largely works, and we very much prefer this positioning to edge or back-mounted speakers.
Maybe the only thing the speaker could really use (besides a second speaker for some stereo action, anyway) is better-balanced output, as we found audio pumping out of the Moto G5 Plus to be slightly too tinny and treble-rich (or maybe, bass-lacking) for our tastes.
Unlike the Moto Z lineup, the G-series isn't ready to ditch its analog headphone jacks just yet, and the G5 Plus arrives with a bottom-mounted jack – one blast from the past we're still very much happy to see.