Marshall Monitor Bluetooth Headphones
3
Software and functionality
Music-sharing adds a new dimension to Bluetooth audio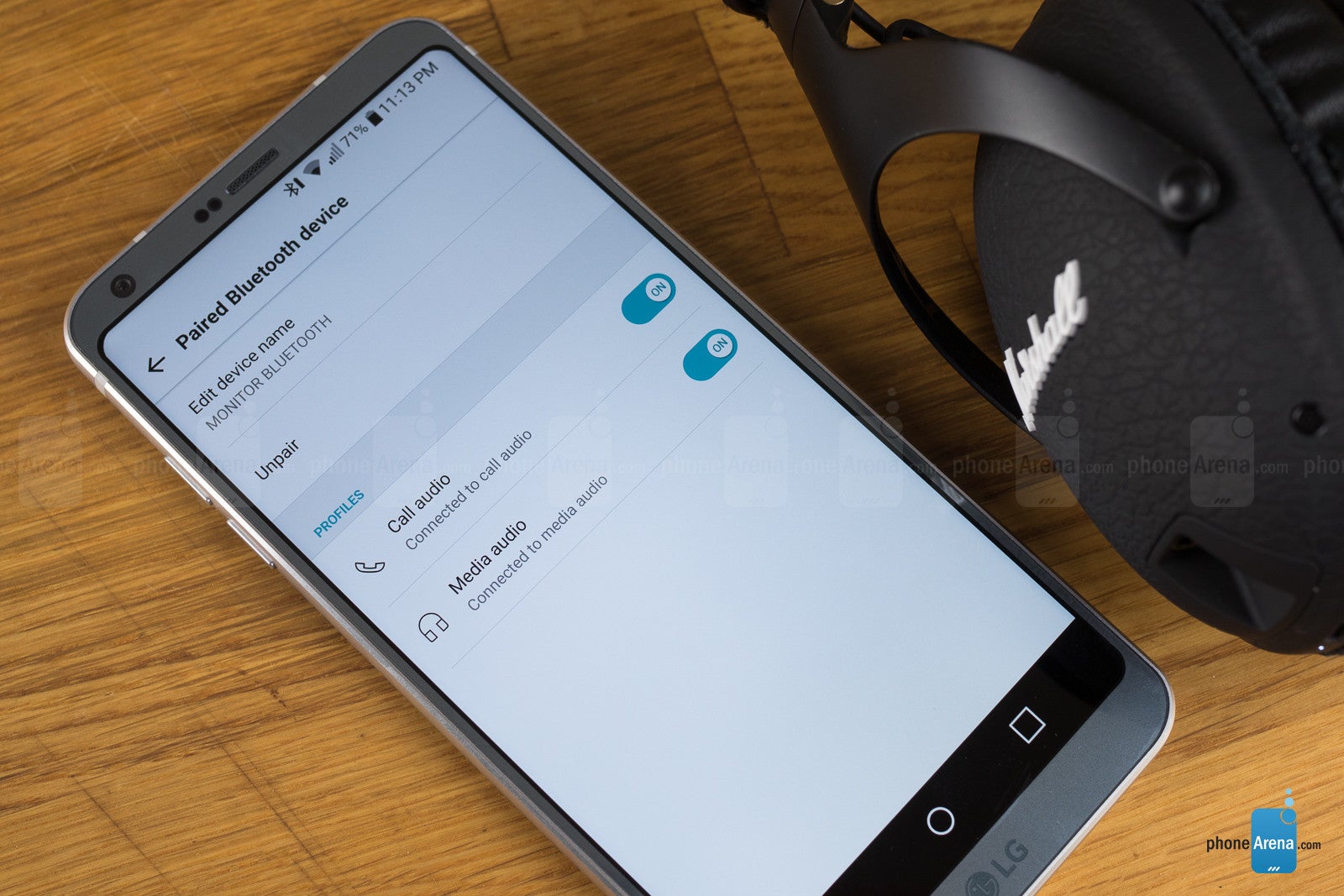 Like most good pairs of Bluetooth headphones, the Marshall Headphones Monitor Bluetooth isn't reliant on some external app to get the job done: just pair it with a compatible Bluetooth device and you're good to go. Heck, it doesn't even have to support Bluetooth, and in a pinch you can use the included 1/8-inch stereo headphone cable to attach it to any hardware with a headphone jack.
The cable itself is really nicely made, with gold-plated connectors (one of which is right-angle), springy strain relievers. and even a coiled section in the middle for extra length when you need it.
But most of your usage is going to be over Bluetooth, and if your phone supports it, these headphones are all ready to tap into Qualcomm's aptX codec system. We'll be talking about sound quality just a little later on, but it should suffice to say that this is one very nice bit of functionality to have.
We just talked about how you can use the analog headphone jack to connect to non-Bluetooth devices, but it also has a second feature: when you are listening to music over Bluetooth, you can attach a second pair of headphones via that port to share your music with a friend.
That's an utterly fantastic capability, and we only really wish that Marshall Headphones went a bit further with it, maybe giving you an independent volume control for the second listener. There's also a small design consideration that might benefit from some tweaking: the headphone jack is mounted in parallel to the plane of the earpiece, and there's a sunken recess around it to accommodate a 1/8-inch plug and attached cable.
With really sleek headphone plugs, though, like those on Apple Earpods, we had a bit of trouble getting a grip on them to disconnect, and found ourselves forced to go the unfortunate route of yanking hard on the actual cable – never something we want to do. Some greater clearances, or a jack mounted perpendicularly, might be an improvement.
Controls
Marshall Headphones aims for simplicity, and for the most part succeeds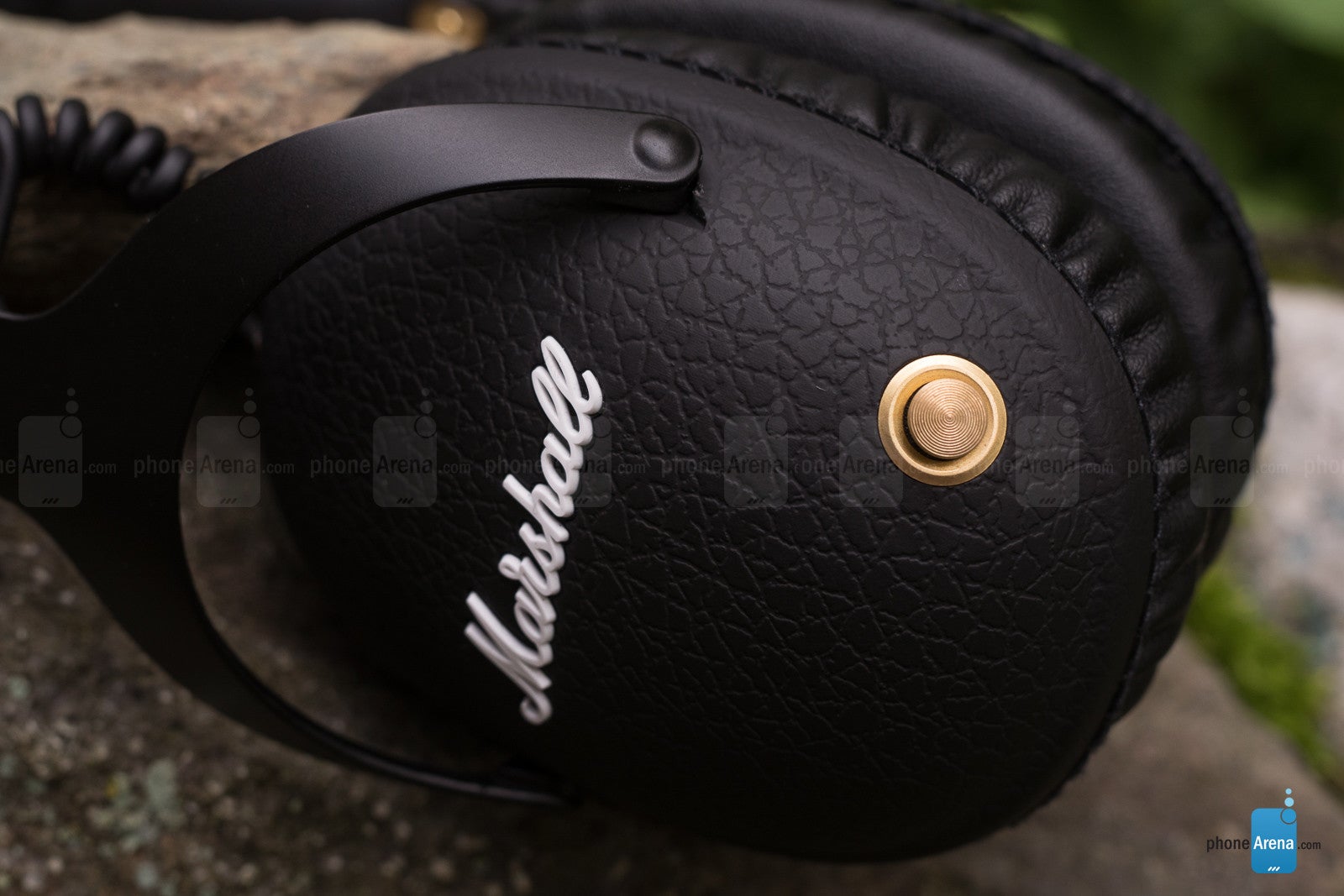 The little brass control on the headphones' left earpiece is your one-stop shop for any and all things control related. It's a miniature four-way joystick, tilting up, down, left, and right, and also clicking in when you press on its face. You'll press the button to power the headphones on and off, as well as press-and-hold to pair over Bluetooth. Tilting up and down works as your volume controls, while left and right control track advancement.
The control knob is very attractive, and its minimalist design fits in well with the rest of the look of the Monitor Bluetooth headphones. But since it's circular, and also because it's not at all marked or labeled to indicate functionality, it can occasionally be tricky to use.
That's partly because headphones have a way of tilting forward and backwards on your head, and when you reach for this unadorned knob, intending to tilt it up to increase the volume, there's always a risk you're going to tilt it left or right, instead – there's just no easy way to tell the orientation from touch alone, and the very strict four-way nature of the stick (with no support for diagonals) can make using it feel a little stiff.